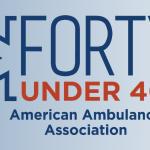 Mobile Healthcare 40 Under 40
2020 Mobile Healthcare 40 Under 40 Honorees
Congratulations to the inaugural class of #EMS40under40. These rising leaders were recognized for their exceptional contributions to the profession.
Winners receive recognition on AAA social media as well as complimentary registration to #Ambucon21 in Grapevine, Texas.
(Please note that due to overwhelming response, we are honoring slightly more than 40 people this year.)
Adam Heinz (REMSA – Reno, NV)
Adam Parker (Sanford Health – Bismarck, ND)
Adam Stockton (Maricopa Ambulance – Phoenix, AZ)
Alan Brook (New Hanover Regional Medical Center – Wilmington, NC)
Alicia Ney (Paramount Ambulance – Peosta, IA)
Amanda Jimeson (EMSA – Oklahoma City, OK)
Amanda Shell Jennings (Priority Ambulance – Knoxville, TN)
Andy Ney (Paramount Ambulance – Dubuque, IA)
Anthony Taylor (Indianapolis EMS – Indianapolis, IN)
Austin Schrader (Commonwealth Health EMS – Wilkes Barre, PA)
Brian Levinsky (Northwell Health EMS – Staten Island, NY)
Brian Walls (Huron Valley Ambulance – Ann Arbor, MI)
Catherine Counts (University of Washington & Seattle Medic One – Seattle, WA)
Celia Cuevas (Superior Air-Ground Ambulance Service Inc. – Merrillville, IN)
Charles Schwalbe (Northwell Health EMS – Northport, NY)
Chase Hodges (Superior Air-Ground Ambulance Service – Bolingbrook, IL)
Chris Anderson (Bell Ambulance, Inc. – Milwaukee, WI)
Corey Chapman (Acadian Ambulance Service – Lafayette, LA)
Craig Boschert (St. Charles County Ambulance District – St. Peters, MO)
Dan Gillespie (Allegiance Mobile Health – Georgetown, TX)
David Basnak (EmergyCare – Fairview, PA)
Ethan Taylor (Baptist Ambulance Service – Booneville, MS)
Gibson McCullagh (Pro EMS – Cambridge, MA)
Glen Simpson (Community Ambulance – Henderson, NV)
Hasieb Lemar (Royal Ambulance – Hayward, CA)
James Campbell (Montgomery County Hospital District EMS – Conroe, TX)
James DiClemente (Pro EMS – Cambridge, MA)
Jenn Ford (Mid-Valley Ambulance – Springfield, OR)
Jeremy Tinter (Sunstar Paramedics – Largo, FL)
Joshua Holloman (Johnston County Emergency Services – Clayton, NC)
Kelly Russ (Indianapolis EMS – Indianapolis, IN)
Lauren Emanuelson (Advanced Medical Transport – Peoria, IL)
Luke Culleny (Chatham EMS – Savannah, GA)
Matthew Philbrick (Mercy Flights, Inc. – Medford, OR)
Nick Eastman (Gundersen Tri-State Ambulance – Onalaska, WI)
Nick Romenesko (Gold Cross Ambulance Service, Inc. – Menasha, WI)
Rachel Taradash (Pro EMS – Cambridge, MA)
Rebecca Szeles (Richmond Ambulance Authority – Richmond, VA)
Remle P. Crowe, PhD (ESO – Austin, TX)
Robert Weisbaum (Crested Butte Fire Protection District – Crested Butte, CO)
Sabrina E. Riggs (Oregon State Ambulance Association – Lake Oswego, OR)
Samantha Hilker (Hilker Project & Strategy Managment – Kaukauna, WI)
Tom Krowkowski (Umpqua Valley Ambulance – Roseburg, OR)
William Pitt (Puckett EMS – Chattanooga, TN)

---
2021 #EMS40under40 Nominations Due May 1!
Know a wonderful rising leader you'd like to recognize next year? Nominations are open for the 2021 Mobile Healthcare 40 Under 40!
Selection Process & Criteria
Honorees will be selected based ONLY on the information provided in their nomination form. Nominees should have contributed to their organization, state ambulance association, AAA, other professional associations, and/or the EMS profession in an extraordinary way beyond faithful completion of job duties. Please be sure to include detail about the nominee's impact to date and future promise.
Please note that nominees must be under 41 on December 31, 2021 (meaning that they cannot turn 41 in 2021). No specific job role or title is required for consideration.
Recognition
Honorees will be recognized on the American Ambulance Association's website and social media platforms. Winners will also receive complimentary registration to the 2021 AAA Annual Conference & Trade Show at the Gaylord Texan in Grapevine.