EMSNext Nominations Due January 1, 2024!
Know a wonderful rising leader you'd like to recognize as the future of EMS? Nominations are open for EMSNext (formerly Mobile Healthcare 40 Under 40)!
Selection Process & Criteria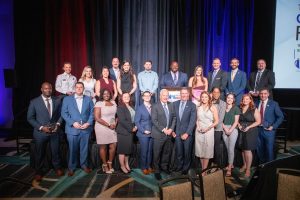 Honorees will be selected based ONLY on the information provided in the nomination form below. Nominees should have contributed to their organization, state ambulance association, AAA, other professional associations, and/or the EMS profession in an extraordinary way beyond faithful completion of job duties. Please be sure to include detail about the nominee's impact to date and future promise.
Please note that nominees must be under 40 in the year of nomination OR from a diverse background. No specific job role or title is required for consideration.
EMSNext Program Description
EMSNext is a recognition and development program of the American Ambulance Association. The goal of this program is to recognize up-and-coming leaders within EMS and support them in building their networks and leadership skills and encouraging them to get involved in the next level of EMS leadership. This program is a way for organizations to fully engage their rising leaders through company-sponsored travel and participation in additional learning and networking events throughout the year. Program participation includes:
Complimentary conference registration for the 2024 AAA Annual Conference & Tradeshow (April 22-24 in Nashville, Tennessee)
Recognition of the EMSNext recipients during the Conference
Mentor pairing and additional professional development opportunities
Encouraged to attend AAA Board Meetings throughout the year
Encouraged to attend another AAA event with our leaders in 2024
AAA's Commitment to Diversity, Equity, and Inclusion
Updated in August 2022
Caring for People—Together.
The American Ambulance Association board and its members are committed to providing high-quality healthcare to every patient regardless of race, color, sex, age, national origin, religion, sexual orientation, gender identity, status as a veteran, and/or on the basis of differing ability. We dedicate time, thought, and resources to fostering diversity, equity, inclusion, and mutual respect within the Emergency Medical Services workforce and leadership. Together, we save and sustain the lives of community members.