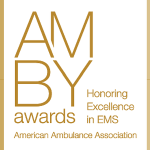 AMBYs: Honor Excellence in EMS
2020 AMBY Award Nominations Close
May 15

!

The AMBYs recognize excellence in the ambulance profession and the ingenuity and entrepreneurial spirit that epitomize AAA members. Read about our previous winners to learn why we're passionate about honoring your commitment to excellence.
Why Bring the AMBYs to Your Organization?
Share Your Knowledge with Your Peers
By entering the AMBYs you show your commitment to excellence in the ambulance industry and your willingness to share your superior accomplishments with your peers. Winners will are awarded during the AAA Awards Reception at our Annual Conference & Tradeshow, In addition, all entries will be shared with the AAA membership on the website, in the association's mobile event app and as an online publication.
Show Your Value to Your Community
AMBY Award winners are given the American Ambulance Association's AMBY Award Winner logo to proudly display on their website, social media sites, and other marketing collateral to let key stakeholders know the Association recognizes your contribution to the industry as outstanding. In addition, winners will receive a press release template to send to your local press. All winners will be published in a press release sent out by the association and in a case study and winner's gallery e-publications.
Gain Valuable Feedback
The AMBY Awards are judged by your colleagues on the AAA Professional Standards Committee. With years of collective experience the panel of committee member judges understand the challenges, opportunities and desired outcomes inherent in the EMS profession. As leaders who value creativity and innovation they can appreciate the complex demands of the industry and will provide thoughtful and useful feedback in the scoring of all entries.
Strengthen the Profession
Award-winning work helps to nurture the EMS industry's deeply rooted culture of collaboration, cooperation and a passion for excellence in patient care. The AMBY Award Winners' Gallery will provide an inspiring collection of winning strategies and best practices to be emulated by other AAA members.
How to Enter the AMBYs
How to Enter
AMBY award entries are open to AAA ambulance service members and our affiliate members.   All entries must include a Statement of Entry. Statements of Entry and all supporting documentation are submitted through our online form with requirements listed below. Entry materials will be retained and shared with AAA members as best practices and entrants agree that all materials may be used by the AAA for AMBY marketing purposes.
Supporting Documentation
Supporting files for all entry types can include Word documents, Excel files, PDF's, jpegs, gifs, links to video or other webpages. Statements and files will be submitted online and entrants can ship posters or other graphics to the AAA for display at the conference.  Entries will also be available for viewing at the AAA Booth in the conference exhibit hall.
Entries will be judged by the Professional Standards Committee. Entries and will be judged against their own objectives not against each other, in 4 equally weighted areas: Goals, Planning & Implementation, Project Results and Impact. Any judge having business relations with an entrant must recuse themselves from scoring that entry. Both the high and low scores will be thrown out and remaining scores will be averaged.  Work completed within the last 18 months will be eligible for entry.  All Entrants will be notified of the results prior to the AAA Annual Conference & Trade Show.
Ambulance Services
Statement of Entry Requirements
Organization
Service Type
Service Size
Individuals involved in the project
Situational Analysis
Project Goals
Planning & Implementation
Project Results
Impact
Cost/Budget ( can be submitted as overall % to departmental budget)
Entry Categories*
Public Relations Campaign
Community Impact Program- open to any community based program to include: Safety, Environmental, Health or Awareness Campaigns, Corporate Give Back or any other program that was designed for, or impacted your community.
Employee Programs -can be any employee program from recruitment and retention to recognition, leadership development, training, EMS Week programs, etc.
Quality Improvement Program
Clinical Outcome Project
Innovation in EMS
Other
Fees
AAA Members: $150 per entry
Non-Members: $600 per entry
Affiliates (Vendors) 
Statement of Entry Requirements
Organization
Product or Service Provided
Individuals involved in the project
Situational Analysis
Target Demographic
Project Goals
Planning & Implementation
Project Results
Impact for customer
Cost/Budget (affiliate or client budgets will not be shared or published by the AAA)
Entry Categories*
Equipment/Supplies
Consulting/Management
Financial/Administration
Quality/Safety
Education/Training
Technology/Hardware/Software
Fees
Affiliate Members: $550 per entry
Affiliate Non-Members:  $1,100 per entry
Enter
Winning Affiliate entries that include work or projects involving a client that is an AAA member will receive duplicate AMBY's and both the vendor and the client will be acknowledged as winners.
*If you are not sure which category best suits your entry, please use the Other category. Your entry may be assigned to another category by our judges for showcasing purposes. Since entries do compete against each other there are no penalties or deductions for submitting in the wrong category.
View Previous AMBY Winners