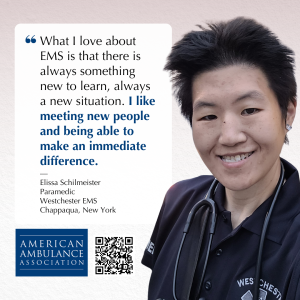 Elissa Schilmeister
Paramedic
Westchester EMS
Chappaqua, New York
Share on: Facebook | Instagram | X/Twitter | LinkedIn
How did you come to be in EMS?
I have always been interested in helping others and fascinated by science. I followed a different career path and studied Biodiversity and Conservation Conservation Biology. After working as an Environmental Educator Educator, Volunteer Coordinator, and becoming a licensed Wildlife Rehabilitator, I was approached by a member of my local volunteer ambulance agency. I started volunteering and quickly became an EMT and officer. The more involved I became the more I fell in love with EMS.
What do you love about working in EMS?
What I love about EMS is that there is always something new to learn, always a new situation. I like meeting new people and being able to make an immediate difference.
Do you have any advice for someone considering becoming an EMT or Paramedic?
Ask questions. Make the most of every situation, including interfacility tranfers. Go with your gut feelings.