EMS Profiles | Meet Jameson Fernandez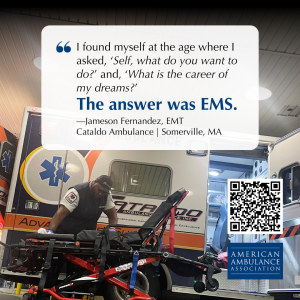 Jameson Fernandez
Emergency Medical Technician
Cataldo Ambulance
Somerville, Massachusetts
Share this on Instagram | Facebook | X / Twitter | LinkedIn
How did you come to be in EMS?
The light and sirens going by first caught my attention as a young child. That love only grew as I got older. I would watch and ask for all things that had to do with first responding. I loved it all, and imagined serving as police, fire or EMS when I got older. Over time during these growing years I eliminated fire and law enforcement as just not for me. EMS was the winner across the board.
I found myself at the age where I asked, 'Self, what do you want to do?' and, 'What is the career of my dreams?'
The answer was EMS.
What do you love about working in EMS?
What I love about EMS is there is literally never a dull moment! Nothing day is the same, no call will ever be the same. EMS and standing orders are always evolving and trending up. We are always there when you need us.
Do you have any advice for someone considering becoming an EMT or Paramedic?
My advice is to go for it! Buckle up and enjoy one of the most rewarding career paths that can simply not be duplicated in other professions.
I recommend EMS for the skillset development. It hits such a wide variety of life lessons in just one shift. As an EMT, you'll see the do's and don'ts to life as a whole, and it gives you the ability to help people from the community.
You are continually educated and truly the sky is the limit in emergency medical services. Being an EMT opens so many doors in so many directions in the medical field. You can start EMS like me from fleet maintenance, where I learned about the vehicles, to a chair car, to communications and dispatch, to the road as an emergency first responder, and then on to an EMT certification. The future is full of next steps, and I've already done a lot. You can even get your advanced EMT, then your Paramedic then do a bridge program and go into nursing. The possibilities are endless and attainable.
Anything else you'd like to say?
EMS is the way to go. Get started!
Cataldo Ambulance, diversity, EMS Profiles, Massachusetts, Massachusetts Ambulance Association
---
Amanda Riordan
Amanda Riordan serves as the Vice President of Membership of the American Ambulance Association. She joined AAA as Director of Membership in May of 2015. She has 15+ years of progressive experience in non-profit operations, membership development, marketing, operations, and credentialing.
---