2021 40 Under 40 | Justin Reed | Texas
40 Under 40 nominees were selected based on their contributions to the American Ambulance Association, their employer, state ambulance association, other professional associations, and/or the EMS profession.
____
Justin Reed
Assistant Chief, EMS
Cy-Fair Fire Department
10710 Telge Rd, Houston TX 77095
LinkedIn
Nominated by: Lesley Osborn
Biography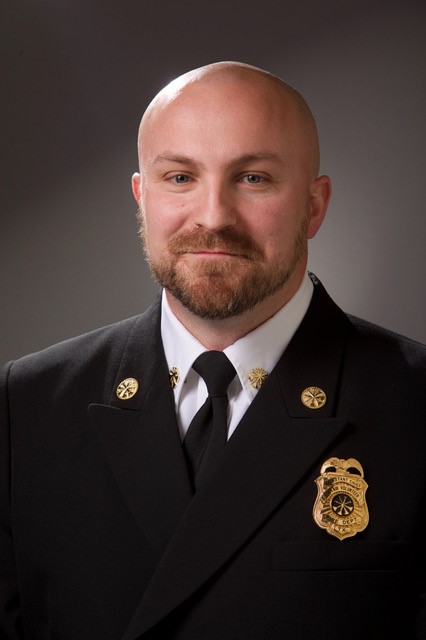 Justin Reed is currently the Assistant Chief – EMS for Cy-Fair Fire Department. As the overall EMS Director, he is responsible for all activities involving the 130 full-time paid staff, 13 ambulances who respond to approximately 30,000 calls annually, covering a population of 640,000. Previously he was the Clinical Manager for Harris County Emergency Services District #5. Justin has over 10 years of progressively responsible experience delivering the highest quality of leadership, patient care, and customer service.
Justin Reed is a Cum Laude honors graduate of Western Carolina University where he earned a Bachelor of Science in Emergency Medical Care with a minor in management. Also recognized as a Fellow of the American College of Paramedic Executives, 2020.
Justin has volunteered with numerous organizations including a non-profit organization in Haiti providing prehospital care, education, and equipment. He serves in numerous committees including the National Association of EMS Managers, where he is the immediate former Chair of the Quality and Performance Improvement Committee. Also, he is involved with EMTF6 as both an Ambulance Strike Team Leader and a member of the Mobile Medical Unit. As an instructor, Justin holds various certifications and has taught both domestically and internationally with a strong passion for evidence-based medicine and prehospital care in Haiti.
Reason for Nomination
I have had the pleasure of knowing Chief Reed professionally for over four years now. I currently serve as the Assistant Medical Director for Cy-Fair Fire Department where he is at the helm as the Assistant Chief of EMS.
As a healthcare professional and executive, Chief Reed's fundamental goal has been to use his knowledge and abilities to increase the outcomes and well-being of those in his community. He centers his work around this mission, applying it with his patients, team, family, and himself. With nearly two decades of cumulative experience in emergency medical services (EMS) as a paramedic, volunteer firefighter, 9-1-1 dispatch supervisor, clinical manager, educator, and EMS director, Justin has a deep understanding of prehospital medicine. He is well acquainted with both the challenges and the immense opportunities in this critical stage of care to improve the health of populations.
As EMS director, he is the leader of an emergency healthcare delivery system of over 600 members in the Greater Houston Metroplex, overseeing a 25-million-dollar budget that serves an ever-growing population of over 600,000. Daily, he manages the competing interests of numerous multi-disciplinary stakeholders, from elected officials, hospital executives, public safety directors, and regulatory officers to his EMS command staff. Since his 2016 start, I have had the opportunity to watch Justin transform the Cy-Fair EMS system from a service line seen as a necessary evil into a high-performance, evidence-based, quality-driven division that motivates change at the local, state, and national levels.
There are many examples of Chief Reed's ability to approach problems with innovative solutions, and I would like to go into detail about one here:
Chief Reed's desire to innovate permeates his leadership approach. He constantly challenges the status quo, "good enough," or "the way it's always been done." Texas, which is home to more federal disaster declarations than any other state, has proven to be fertile ground for honing his leadership skills and abilities. In 2015, while deployed as a task force leader in response to a regional flooding event, Justin's team recognized a problem—and an opportunity for innovation. A swift water asset assigned to his team's base had become ill from a water-borne virus commonly found in the living conditions of such disaster operations. The illness made the critical personnel unable to complete their mission, and there was an immediate need to treat this specialized team. As a preventative measure, Justin not only worked with managers onsite to increase hygiene but also sought acute care. He and his team started to treat the sick members of the swift water team with the expectation of a 24-hour rehabilitation time for a return to operations. Unfortunately, they were unable to fulfill their goal: a state official approached them to remind them that the mission was to protect citizens, not treat members of the deployment. The orders were made exceedingly clear, and the team respected their authority and demobilized. The swift water team returned home immediately, still sick. Not only did this threaten the crew members' safety by postponing their care, but it also delayed the emergency response operation, which ultimately risked the welfare of the very citizens whom they were charged to protect.
Concluding the 2015 flooding deployment, Chief Reed vowed to never again let such medical oversights occur. He recognized that there was a system issue: the model typical of large-scale disaster management is that responders are not provided proper healthcare but instead expected to use personal supplies to take care of themselves, often resulting in attrition and delay of care to citizens. His solution: the Force Protection Strike Team.
Justin's goal was to treat responders at minimal cost and ensure that disaster response teams remained healthy and able to fulfill their duties. For the next year, he led a team that designed a program and training regimen for a specialized group of providers to function as mid-level clinicians capable of treating other responders. In the process, he met with state officials to secure the approval for the outfitting of a team with a complete disaster medical clinic prepared for rapid deployment.
The first opportunity to use the Force Protection Strike Team arose in 2017 during the devastating Hurricane Harvey. The teams received approval three days before Harvey's first landfall and were mobilized throughout Southeast Texas, caring for our own and ensuring a fast-paced operation that kept everyone engaged. Next, the team mobilized in 2018 during the wildfire season in West Texas, during which over 500 personnel combatted a fire more than 400 miles away from the nearest trauma center. The strike team's most notable achievement during this deployment was reducing the attrition rate from 16-19 percent to less than one percent. Chief Reed had succeeded in creating an efficient model to care for the first responders on the front line, thus ensuring the ability to care for the community.
Following the program's success, his team garnered the attention of the Texas governor and emergency management chief. He delicately highlighted a gap in care: that the state was still deploying thousands of responders without adequate force protection. Elected officials convened a summit and a formal state model for force protection based on the program that Chief Reed helped develop was established. This led to the creation of additional teams statewide. Now, in Texas, when a large-scale disaster is declared, these teams are prepared to be mobilized at a moment's notice, with one goal in mind — to keep our first responders safe and in the fight.
I could continue to give examples of Justin as an excellent EMS leader and of his innovative approach to system issues. However, I'll leave you with something that I feel is important. Chief Reed has a passion for improving healthcare in the prehospital setting. His vision for improving access to care, preventing readmissions, and incorporating evidence-based practice in the field is a rarity. In my opinion, he is a resource that is still untapped. I expect we will be talking about his accomplishments and contributions to the specialty of EMS often in the next several years.
It is my pleasure to give my highest recommendation of Chief Justin Reed to the committee making the selection for 40 under 40 for mobile healthcare.