Spotlight: David Tetrault
David Tetrault
Farmington, MO, USA
Administrator/CEO, St. Francois County Ambulance District
Director, AAA Board, Region 4
Tell us a little about yourself, please.
I grew up in Jennings, Missouri, a small town in St. Louis County. I'm the baby of six kids—four brothers and a sister. I am very proud of my twin girls who just graduated from high school while simultaneously completing their associates degrees. They are now off to college to Rolla, Missouri, to finish their bachelors degrees. In addition to sharing time with my family and friends, I enjoy softball, camping, swimming, tennis, and walking.
How did you come to work in the industry? How long have you been involved?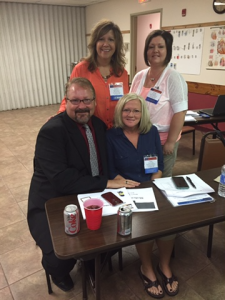 Years ago I was involved in part of the law enforcement arena called "Police Explorers", primarily because my brother was a police officer. From there, I progressed through many different facets of law enforcement. The one thing that sticks out in my mind is that every time I was involved in an incident including a sick person or trauma, I really felt as if I would filling my calling. I could calm people and make them feel better, even when at that point I had only first responder training.
I have been involved with EMS for more than 30 years now, from my early days as a dispatcher, then up the ranks to Training Officer, then Manager, and now CEO/Administrator here in St. Francois County.
What do you enjoy most about your job?
I enjoy working with the public, people in our community, and my staff. They are my second family.
What is your biggest professional challenge?
Dealing with the younger spirited individuals coming into the world of EMS. Understanding the different challenges in funding, retention of our employee's, the right mix of people and balancing the good/bad at the same time.
Making sure the Emergency Medical Services is not the forgotten one in the mix of Fire and Police. We all have a very important roles and the same amount of responsibility.
What is your typical day like?
My day typically starts with putting out fires and finishing my to do list from the previous day. Having 24/7 responsibility for a large program has its ups and downs—including sometimes getting called into work in the middle of the night. By sunrise, I have usually been up and on the highway for several hours. During typical office hours, I attend meetings and handle projects, budgeting, scheduling, and other tasks that need to be completed to keep our service operating. I also address any concerns or needs of the board of directors.
How has participation in AAA membership and advocacy helped your organization?
The American Ambulance Association has bridged the gap for me in my role as a service Administrator/CEO. AAA has many valuable resources, and provides me access to a vast network of ambulance services across the United States. My fellow AAA members as well as staff are always available to answer questions.
AAA has been the leader in ambulance services resources for many years, and they continue to strive to be the best in everything they offer. I enjoy the daily updates, and feel that the work AAA does with benchmarking and standands forms the backbone of the industry. The American Ambulance Association is truly a leader for EMS.
CEO, Interview, Missouri, rural
---
Amanda Riordan
Amanda Riordan serves as the Vice President of Membership of the American Ambulance Association. She joined AAA as Director of Membership in May of 2015. She has fifteen years of progressive experience in non-profit operations, membership development, marketing, operations, and credentialing.
---