Prior Authorization Data Shows Dramatic Reductions in Spending on Dialysis Transports
In May 2014, CMS announced the implementation of a three-year prior authorization demonstration project for repetitive scheduled non-emergency ambulance transports.  CMS initially elected to limit this demonstration to three states: New Jersey, Pennsylvania, and South Carolina.  These states were selected based on higher-than-average utilization rates and high rates of improper payment for these services.  The Medicare Payment Advisory Commission (MedPAC) had previously singled out these states as having higher than average utilization of dialysis transports in a June 2013 report to Congress.
This demonstration project went into effect on December 15, 2014.  The Medicare Access and CHIP Reauthorization Act of 2015 (MACRA) subsequently expanded the demonstration project to five additional states and the District of Columbia on January 1, 2016, with a further expansion to all remaining states expected to occur at some time during 2017.  However, national expansion is contingent upon CMS determining that the demonstration project has been effective in reducing Medicare expenditures without jeopardizing patient's access to necessary medical care.
Every year, CMS also releases data on aggregate Medicare payments for the preceding year.  This file is referred to as the Physician/Supplier Procedure Master File (PSP Master File).  This past month, CMS released the 2016 PSP Master File, which contains information on all Part B and DME claims processed through the Medicare Common Working File with 2015 dates of service.  I will be discussing this report in greater detail in next month's blog.
This month, I want to focus on the impact the prior authorization project has had on total dialysis payments in the original three target states.  Reproduced below is a chart tracking the total payments for dialysis transports in these three states between 2010 and 2015.  Interestingly, these three states demonstrated very different trajectories prior to last year.
New Jersey saw a sustained, dramatic increase in payments over that time, increasing from approximately $56 million in 2010 to more than $106 million in 2014, an increase of nearly 90% over a 5-year period.  (Note: spending figures for 2014 and 2015 take into account the 10% reduction in payments for dialysis transports).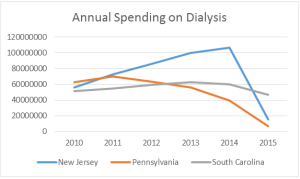 South Carolina saw a much more moderate increase over that same period, increasing from $51 million in 2010 to slightly more than $60 million in 2014, an increase of roughly 18%.  By contrast, payments in Pennsylvania peaked in 2011 at $69.6 million, and have been in steady decline ever since.
While these states' trajectories were different prior to 2015, the results for 2015 are fairly similar.  Each state saw a significant reduction in the total expenditures for dialysis once the prior authorization project went into effect. 
 The fact that these states saw a reduction in overall spending on dialysis is not surprising (to me at least, I recognize this came as a shock to many providers in these states).  These states were not selected at random; CMS selected these states based on its belief that they were particularly suspect to overutilization.
What I do find surprising is the relative sizes of the declines in these states.  New Jersey and Pennsylvania both experienced a more than 80% reduction in payments for dialysis.  By contrast, the reduction in South Carolina (approximately 25%) was far less dramatic.
Does this suggest that abuse was more prevalent in New Jersey and Pennsylvania?  Perhaps.  An ongoing federal Medicare Strike Force in the Philadelphia metropolitan area has resulted in a number of convictions against fraudulent providers in these states.  However, the impact has not been limited to these alleged "bad actors."  Even those companies employing accepted best practices have seen significant reductions in their approved patient populations.
To me, the common factor seems to be the applicable Medicare contractor.  New Jersey and Pennsylvania are both administered by Novitas Solutions, Inc., whereas South Carolina is administered by Palmetto GBA.  While Medicare's coverage standards are intended to be national, it seems reasonable to conclude that Novitas has taken a far harder stance on dialysis than Palmetto.  Anecdotal evidence from the states that came went live with prior authorization in January 2016 seems to confirm this thesis, although we will not be able to know for sure until the 2016 Medicare payment data is released this time next year.
Those of you that have attended this year's AAA Regional Conferences, or who participated on AAA webinars this past year have heard me say that the Medicare Administrative Contractor's stance on dialysis is the most important factor in determining whether an ambulance provider needs to rethink its current approach to its repetitive patient population.  To the extent the MAC takes a fairly lenient stance, providers will likely find that only a few "tweaks" are needed to align their existing practices with a prior authorization regime.  AAA members in these states may even find it worthwhile to even considering expanding the spectrum of patients they accept for transport. If, however, the MAC takes a fairly restrictive stances (as Novitas has clearly done), providers will likely find it necessary to dramatically trim these populations, or to arrange for alternative sources of payment for these transports.
I also encourage AAA members to attend our panel discussion at this year's Annual Conference & Tradeshow in exciting Las Vegas (November 7 – 9th).  I have the privilege of serving as the moderator for a panel consisting of several providers that are currently operating under the prior authorization project.  These providers will talk about their experiences, and will be able to offer helpful tips on how to best navigate this major shift in Medicare's coverage rules. (See full Conference Agenda)
Have an issue you would like to see discussed in a future Talking Medicare blog?  Please write to me at bwerfel@aol.com.
dialysis, Medicare, prior authorization, Talking Medicare
---
Brian Werfel
Brian S. Werfel, Esq. is a partner in Werfel & Werfel, PLLC, a New York based law firm specializing in Medicare issues related to the ambulance industry. Brian is a Medicare Consultant to the American Ambulance Association, and has authored numerous articles on Medicare reimbursement, most recently on issues such as the beneficiary signature requirement, repeat admissions and interrupted stays. He is a frequent lecturer on issues of ambulance coverage and reimbursement. Brian is co-author of the AAA's Medicare Reference Manual for Ambulance, as well as the author of the AAA's HIPAA Reference Manual. Brian is a graduate of the University of Pennsylvania and the Columbia School of Law. Prior to joining the firm in 2005, he specialized in mergers & acquisitions and commercial real estate at a prominent New York law firm. Werfel & Werfel, PLLC was founded by David M. Werfel, who has been the Medicare Consultant to the American Ambulance Association for over 20 years.
---