New Member Benefit: StateTrack
Introducing the AAA's newest member benefit, StateTrack, powered by CQ Roll Call. StateTrack will give AAA members the ability to easily track crucial legislation and regulations in one state or all of them as well as the Federal Government.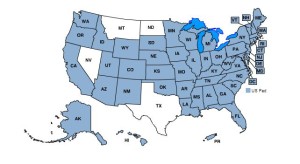 StateTrack will show you a map of the entire United States. Click on the state you are interested in tracking and you will see a list of all regulations and legislation impacting the following areas:
► Affordable Care Act
► Ambulance
► Community Paramedicine
► EMT
► Medicaid
► Medicare
► Mobile Integrated Health
► Paramedic
Click on the key words above to narrow down your search to only legislation and regulations that contain those terms.
Members will be able to view the full text of each piece of legislation as well as edits that have been made to the text, bill number, status of the bill and the representative who introduced it. StateTrack will make it easier for AAA members to keep track of legislation and regulations on the state level that could have enormous impacts on their ambulance services. States that are white, are either out of session or do not have any pending legislation or regulations that fall under the AAA search criteria.
Please contact Aidan Camas at acamas@ambulance.org if you have any questions.