EMT Reid Needs a Kidney! Living Donor Sought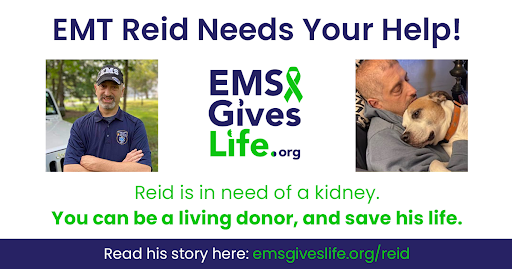 For years, Reid Cappel has selflessly served his New Jersey community as an emergency medical technician. Now, it is his turn to ask for a lifeline from his fellow public health and public safety professionals. Help Reid find a living kidney donor, so that he can get back to doing what he does best: caring for others.
Anyone who is healthy and eligible to be a kidney donor can give Reid the gift of life.  A donor does not have to be a direct match, can live anywhere in the US, and will have access to donor protections and resources.  EMS Gives Life, a nonprofit organization for first responders, by first responders, will provide guidance to our EMS, fire, and police brethren who are considering living donation.
All inquiries will be held in complete confidence.  There is no commitment required to learn more.  Meet Reid and learn more about living kidney donation at  www.emsgiveslife.org/Reid.