Ambulance Medical Billing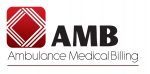 Business Name:
Ambulance Medical Billing
Description:
Ambulance Medical Billing, also known as AMB, is one of the nation's largest EMS billing firms. A family-owned business, located in Paducah, Kentucky, we have specialized in optimizing EMS revenue reimbursements for the past 14 years. We work with clients of all sizes to help them navigate EMS billing. From our field-based trainers to the knowledgeable staff in every department, AMB has the expertise to help your service excel. A strong partnership, commitment to compliance, and excellent customer service satisfaction, along with guaranteed US-based work, makes AMB your ideal billing partner.