Patient Satisfaction and the Collections Conundrum
Emergency Strikes
The year was 2001—seems like a distant me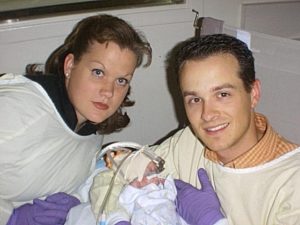 mory. Expecting our first child, my wife and I were living in Modesto, California, thinking about cradles and nurseries. We were so excited—the little one we'd been expecting was on his way! Excitement quickly changed to deep concern as we learned there were some major complications with the pregnancy and our baby was in serious jeopardy. Life's pause button was pushed as everything else in the world came to a screeching halt.
An ambulance transport and emergency delivery later, we found ourselves in our new home—the neonatal intensive care unit. For the next four months, we worked with medical teams around the clock to slowly usher our new 1-pound, 4-ounce son, Noah (now 15 years old), into the world.
Financial Domino Effects
This was an incredibly stressful time in our lives. Of all the things that burdened us, one of the most memorable was the nearly $5,000 invoice we received for a specific service. With no clue how we would pay this, I finally worked up the courage to pick up the phone and call the number on the invoice. The provider was demanding immediate payment before sending the bill to collections.
Me? Collections? But I'm the good guy, right? People should be reaching out to care for me. What just happened? After days of multiple information exchanges between me, the billing office and my insurance carrier, we finally figured it out—all charges were to be covered by insurance.
While our care through this time was generally very good, this unexpected charge put a cloud over the provider who lacked the proper information—despite a 120-day inpatient stay. Why did the provider send our bill to collections without contacting us? Where was the disconnect? Does this still happen today?
Fast Forward 15 Years to Smarter Billing and Collections
Sadly, this is not an isolated incident. Everyone knows a person with a similar story. But what if this patient billing story could be different? What if instead of multiple collection agency invoices demanding payment, I had been contacted early in the process? Or better yet, what if everything had occurred behind the scenes between provider and payor?
Technology advancements have narrowed the data gap that created these and other tensions for patients, providers and insurance carriers. Health care providers today can better serve their patients and communities through technology. The systems required to instantly supply insurance information and ensure patient-friendly billing are now available. It's a matter of awareness and investment. Two key technology strategies are rapidly emerging to make collection letters and calls a thing of the past.
Real-Time Insurance Discovery
Insurance discovery solutions help providers find hidden insurance coverage for patients up front versus after the fact. Especially in emergency or self-pay situations, patients may have coverage the provider doesn't know about. Finding coverage provides a tremendous boost to patient satisfaction and financial engagement.
For providers, finding and securing coverage early in the encounter helps billing teams circumvent months of patient statement and collection efforts. Operational costs are reduced and payor reimbursement is hastened. Best practices are rapidly emerging on how to incorporate real-time insurance discovery within patient registration and billing workflows.
Payment Likelihood Determinations
Where insurance coverage can't be found or high deductibles result in exorbitant patient financial responsibilities, checking "payability" becomes crucial. Patients with minimal cash reserves or low propensity to pay can be moved to charity care, Medicaid, or account write-off. Families likely to qualify for financial assistance are also quickly identified by using payment likelihood applications.
Billers and collectors are more efficient and effective without damaging patient relations or community reputation. It is often a smarter long-term decision to write off patient balances in those cases where personal bankruptcy is only one medical bill away.
Proactive financial engagement, insurance discovery and smart collections are in the early stages in healthcare. However, provider organizations that embrace more patient-friendly billing strategies can significantly promote patient satisfaction and long-term community benefits.
Ted Williams has been a featured presenter at regional and national EMS conferences, including the state medical associations, ambulance networks, and technology user group conferences. Williams is a founder of Payor Logic, a national provider of healthcare revenue cycle solutions.