Press Release: Ambulance Delivery To ERs Set To Skyrocket

Press Contact
Don Johnson
Vice President Marketing
CDO Squared, Inc.
309.530.8269
Ambulance Delivery To Emergency Rooms Set To Skyrocket Putting Ambulance Company Financials On Life Support
Medicaid and Medicare Drive Reimbursements Below Cost of Service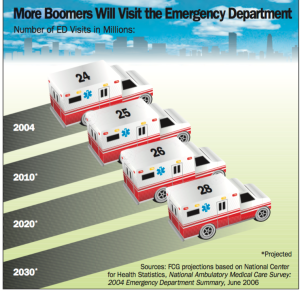 Schaumburg, IL—September 22, 2016—The convergence of the aging baby boomer population, the projected increase of emergency room services for baby boomers, added to lower reimbursement rates for Medicaid and the increasing influence of private insurance companies with Medicare, signals a rough road ahead for ambulance companies.
In a new survey by revenue realization leader, CDO Squared, and the American Ambulance Association, 126 ambulance company executives were asked, "As a rule, the number of emergency department visits is much higher for Medicaid and Medicare recipients than for the uninsured and those with private insurance. How will this effect your profitability over the next five years?"
The survey revealed that well over 70 percent of ambulance companies saw decreased profitability over the next five years. "In an industry already hard hit by the effects of Obama Care, this is just one more pressure point put onto ambulance companies to maintain profitability." according the William Stuckert, CEO of CDO Squared. The American Ambulance Association also weighed in on the survey results. "Ambulance services continue to struggle to do more in the way of providing high-quality medical care and improving patient outcomes with less financial resources, and from the survey it doesn't appear it will get better."  Stated Mike Hall, AAA President.  "On the Medicare payor front, H.R. 745 and S. 377 would make permanent the current temporary add-ons that have allowed ambulance services to maintain critical financial relief."
Stuckert offered this advice for those struggling with increased pressure on their financials. "Ambulance companies must learn how to balance their payer mix. With the push by many states to move Medicaid patients into Managed Medicaid Programs, ambulance companies must choose a payer mix that provides a reasonable amount of profitability." Stuckert stressed the importance of using cash flow analytics to take a deeper look at the profitability of an ambulance company's location. "Once you understand the true value of your facility, you'll be able to balance your runs for reasonable profitability" said Stuckert.
About CDO Squared
CDO Squared maximizes revenue realization for profit-minded EMS providers by connecting data, developing processes, and optimizing their ROI. CDO Squared has been helping healthcare businesses run more profitably for over two decades. Through proven financial technology and innovative workflow tracking, CDO Squared provides the medical industry advanced software and tools for analytics, visualization, and financial management along with the industry experience of seasoned revenue realization management professionals.
About AAA
The American Ambulance Association represents ambulance services across the United States that participate in serving more than 75% of the U.S. population with emergency and non-emergency care and medical transportation. The AAA was formed in response to the need for improvements in medical transportation and emergency medical services. AAA views pre-hospital care not only as a public service, but also as an essential part of the total public health care system.
#  #  #
Visit CDO Squared at the AAA Annual Conference & Tradeshow in island booth #518!