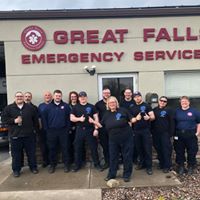 Great Falls Emergency Services
Great Falls, Montana
Facebook | Twitter
Meet Great Falls Emergency Services
Great Falls Emergency Services (GFES) has been providing primary ALS ambulance response to the City of Great Falls and communities in rural Cascade County since 1997. In addition to 911 response, GFES provides BLS, ALS, and Critical Care inter-facility transports, event standbys, and Mobile Integrated Healthcare services. GFES employees 54 Paramedics and Emergency Medical Technicians. The GFES fleet is comprised of six Type III ALS ambulances, a type I ALS unit, and two response vehicles.
The Great Falls Emergency Services COVID-19 Response
The COVID-19 situation necessitated some significant initiatives  at GFES including:
modified pre-hospital protocols, including treatment in place, minimization of aerosolization procedures, and minimizing the quantity of first-responder patient contact
office and workflow changes such as admin staff working from home and 24/7 duty crew screenings
more sophisticated Personal Protective Equipment capabilities and protocols including decon procedures and capabilities
The GFES staff, once in possession of accurate and timely information, and once equipped properly, were fantastic. Our EMS Providers arrive early to work for screening procedures, responded aggressively to all calls for medical need, maintained an excellent 'can-do' attitude, and didn't flinch in their mission to provide front-line response and medical care to their communities.
The Great Falls Emergency Services Leadership Perspective
My admiration for the men and women at GFES and their families knows no bounds; they approach difficult situations with professionalism, technical competence,  enthusiasm, and especially compassion.
—GFES President David Kuhn
Frontline Voices from Great Falls Emergency Services
"We are the first-line responders when someone is having a bad day due to sudden illness or injury. It means a lot to be able to be of service to our friends and neighbors when they are in need." Kathy Wajer, Paramedic Supervisor and Critical Care Paramedic
"EMS handles the situations that no-one else can: the semi-responsive heavily intoxicated patient found on the street, the child with a broken arm at their Little League game, the elderly person at home having a stroke or cardiac issue–I like being able to contribute to a successful resolution of these events and to help the patient get through their difficult time" – Amber Malave, Paramedic Training Coordinator
How Great Falls Emergency Services Celebrates EMS Week
The centerpiece to our EMS Week celebration is a daily barbeque that Management puts on for that day's crews (we put on our aprons and fire up a smoker to cook tri-tip, pork loin, and sirloins).
We also do daily bingo competitions with prizes and have general door prize drawings throughout the week. The community usually steps up and we receive a lot of deliveries of snacks and nice gifts.
We are also making vehicle decals that will be given out to staff. We typically offer a free community CPR class and offer child car seat installations.