Emergency Ambulance Service
Brea, California
80 Staff | 18 Quarantined in 2020
Brea, California based Emergency Ambulance Service (EAS), a family-owned and operated business, has been a respected leader in the delivery of mobile healthcare for more than 40 years. Our company, which began in 1977, provides non-emergency and emergency medical transportation in the Los Angeles-Orange County Metropolitan Area, and responds to approximately 15,000 inter-facility and 9-1-1 transport requests each year employing a fleet of 16 ambulances staffed by highly qualified and caring EMTs, paramedics, and specialty providers. At EAS, we know that patient care is the single most important thing we do … Therefore, our mission is to strive to provide excellent medical service in a prompt, professional and safe manner. Quality patient care is the foundation of our business. We realize that our patients are the only reason we exist, and we feel they deserve no less than the absolute best we have to give.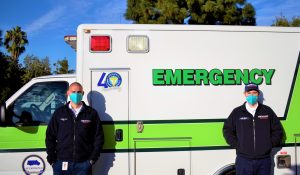 2020 has been a challenging year for EMS in CA, not just due to COVID-19, but also because of the wildfires that have ravaged our state, civil unrest, and increased responses to overdoses and psychiatric emergencies. During this unprecedented time, we have continued to provide service, including supplying an ALS ambulance for 2 straight months at one of CA's Alternative Care Sites, transporting hundreds of COVID-19 patients, responding to incidents stemming from civil unrest, and deploying units for weeks at a time on the fire line. Despite the situations encountered, we have been fortunate to be able to remain active in the community, promoting EMS and Nurses Week's, and reaching out to the public via social media, raising awareness of the "Safer at Home" order, the importance of learning CPR, and ensuring persons follow CDC guidelines to help stop the spread of COVID-19.