Cost Collection Preconference Workshop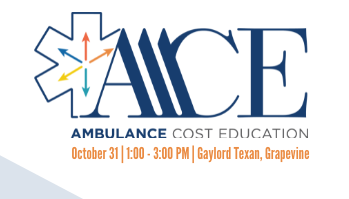 Regular Price: $200.00
Member Price: $0.00
Your Price: $200.00
Ocotober 31, 2021 | 13:00–16:00CT | Gaylord Texan, Grapevine
This event takes place immediately preceding the AAA Annual Conference & Trade Show in Grapevine, TX, November 1-3. Join us there!
Soon, the first EMS agencies will have to collect and report their cost-related data to CMS.  The legislation that was enacted in early 2019 now requires EMS agencies to report cost data to CMS in their effort to reform ambulance service reimbursement under the Ambulance Fee Schedule.  Over the next four years, all EMS agencies who bill Medicare will be required to report their cost data. Failure to meet these new reporting requirements could lead to loss of Medicare revenue.
This three-hour session will provide attendees with a more detailed walk-through of the regulatory language to deepen their understanding of cost collection and provide them with tools and actions to take to meet the regulatory requirements. Attendees will learn why this is a great opportunity to reform our reimbursement structure and what the new mandates will require of their EMS agency.  This session will also provide attendees with the steps to best prepare their service for the phase-in and what resources and tools the AAA has created to assist them during this process.  This workshop is an essential building block for your Ambulance Cost Education. With the changes coming soon, your service can't afford to fall behind!