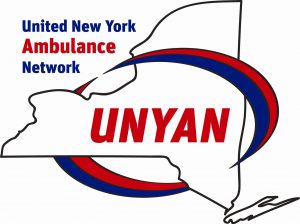 United New York Ambulance Network
Albany, New York
The United New York Ambulance Network (UNYAN) is comprised of small and large commercial ambulance providers. Founded in 1996, UNYAN advocates for quality patient care and helps lead the industry toward providing reliable, cost-effective approaches to high quality medical and emergency transportation services. UNYAN members provide safe, reliable, and timely ambulance services in 22 of New York's top 25 cities and serve millions of New Yorkers 24/7/365.
As one of the hardest and earliest hit states by the COVID-19 pandemic, UNYAN members have stepped up to support New Yorkers and help alleviate the strain on the state's healthcare system. Our members operate in urban, suburban, and rural communities and they have gone above and beyond to help their neighbors, protect communities, and reduce the burden on hospitals through innovative treat and release practices. Our members are essential for New York's recovery. We couldn't be prouder of their resilience and dedication to our patients during these challenging times. To learn more about what we our members have done during the pandemic, visit us on Facebook and on Twitter @NYAmbulances.
Visit our website: http://www.unyan.net