Cape County Private Ambulance Service
Cape Girardeau, Missouri
61 Staff | 14 Quarantined in 2020
Cape County Private Ambulance was founded in 1968, responding to 911 emergencies and non-emergencies, transporting patients, and helping the community of 79,000 in 425 sq. miles of Cape Girardeau County Missouri. CCPA has 60 + full time and part time employees. We operate both ALS and BLS ambulances and crews. We provide emergency medical dispatch services taking calls from 3 separate 911 PSAPs.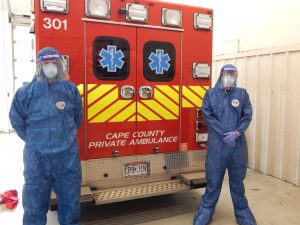 To say 2020 has been an interesting and challenging year is really an understatement. We did not see a significant decrease or increase in call volume however the type of calls did take on a new look. We became quite proficient in donning and doffing our required PPE. Staffing and safety compliance began to take up more time and energy! We all learned to adapt to new ways of simply living and working in the COVID-19 environment. We volunteered to help with testing at several locations, and took PPE to facilities running short on the ever-important protective equipment. We had employees help with contact tracing through our local County Health Department. Overall, we felt the new normal never actually settled and each day brought different situations. Through all of this, we maintained our professional attitude and led by example in our profession. As difficult as this pandemic has been, we feel that our best was showcased in the health care arena. We hope to see an end to COVID-19 and will be ready to assist our community with whatever needs to be done to return to a virus free environment.