NorthStar EMS
Tuscaloosa, Alabama
410 Staff | 51 Quarantined in 2020
NorthStar EMS (NEMS) began operations on April 1, 1992 with two ambulances serving Northport, Alabama. The goal was to provide "Excellence in Prehospital Medicine" to our community." Since that time, NEMS has grown into Alabama's premier ambulance service operating 80 ambulances and support vehicles with over 400 field, communications and support personnel providing ALS/BLS services throughout central Alabama. Our mission statement is to "Provide personalized and professional care to our communities." This Mission along with our Core Values center on our patients and customers, thus serving as our compass, ensuring that the business of ambulance service and related care is delivered on a human scale — one person to another, with compassion and respect. Recognized as the first EMS agency in the State of Alabama accredited by both the Commission on the Accreditation of Ambulance Services (CAAS) and the International Academy of Emergency Medical Dispatch as an Accredited Center of Excellence (ACE), NEMS is at the forefront in helping shape the future of EMS in Alabama.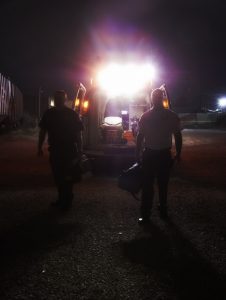 NEMS began 2020 preparing for CAAS re-accreditation when the year quickly devolved into an unprecedented national disaster, not witnessed in modern EMS system design. As COVID began to take root in the US, we were trying to understand how this virus might impact our Team and our ability to serve our communities. As acquiring Personal Protective Equipment became an issue, as suppliers were overwhelmed with orders, so too did incidents of exposure resulting in having to quarantine our providers. Our EMS model shifted from monitoring response-time standards to a more basic model of having units available for the request for service that seemed to grow exponentially. Not unlike disasters of previous years, our providers stepped up to the plate. Working with limited staffing, facing the daily risk of acquiring the virus, one-by-one patients were transported longer distances under more acute circumstances. Paramedics/EMT's watched as their partners were stricken with Covid-19, some spending time in ICU, others experiencing lengthy hospital stays. Through all of this they continued to meet the needs of their community, responding to and transporting Covid positive patients daily.