A-MED Ambulance Service
Gretna, Louisiana
55 Staff | 3 Quarantined in 2020
Founded in 1996 by Frank Macera Jr. and Joseph Jaeger Sr., A-MED has grown from a two-vehicle transport service into one of Louisiana's premier private ambulance agencies. New Orleans is a unique city whose people have clear expectations when it comes to caring for family. We are thankful that our community continues to trust us to deliver essential care at their most crucial time.
Frank and Joe's vision was to be the best, not the biggest, and positively impact every life entrusted to us. Nearly 25 years later, we preserve that vision by keeping our patients' and clients' needs as our primary focus; and keeping our promise always to be there when they need us.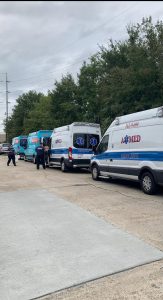 The COVID-19 pandemic created unprecedented challenges for our team, on both a personal and professional level. At the organizational level, we worked tirelessly to provide access to top-of-the-line PPE and decontamination systems at all times to ensure the safety of our team and their patients. As we experienced this most challenging and uncertain time, we also experienced an incredible outpouring of love and support from our community. Our team regularly received coffee, meals, thank you notes, and sometimes even applause!
Our team faced a very active hurricane season in addition to the pandemic response, completing several facility evacuations and deployments to other impacted areas. No matter what the obstacle, every challenge was met head-on and overcome.
We are truly thankful to each team member for the strength, courage, and compassion you continue to demonstrate every day. Thank you for being a shining example of the EMS spirit!