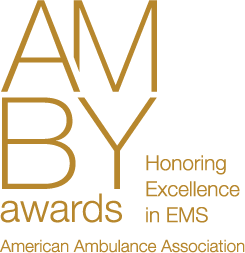 The 2016 AMBY Awards are now accepting nominations for outstanding work done by ambulance services and vendors!
The American Ambulance Association's AMBY Awards Program delivers best practices for all AAA members.  The AMBY's recognize excellence in the Ambulance profession and the ingenuity and entrepreneurial spirit that epitomize AAA members.  Read the 2015 Case Studies and find out why we're passionate about honoring your commitment to excellence.
Entering the AMBY's allows you to show your commitment to excellence in the ambulance industry and your willingness to share your superior accomplishments with your peers. Winning entries will be awarded at our Annual Conference and Tradeshow in Las Vegas, and all entries will be shared with AAA members on the website, in the association's mobile event app and as an online publication.
The AMBY Awards are judged by your colleagues on the AAA Professional Standards Committee. As leaders who value creativity and innovation they can appreciate the complex demands of the industry and will provide thoughtful and useful feedback in the scoring of all entries.
Award-winning work helps to nurture the EMS industry's deeply rooted culture of collaboration, cooperation and a passion for excellence in patient care. The AMBY Award Winners' Gallery will provide an inspiring collection of winning strategies and best practices to be emulated by other AAA members.
Deadline for entry is August 15, 2016. Winners will be notified on September 9, 2016.