UT Health East Texas EMS | AIR 1 in 2020

UT Health East Texas EMS | AIR 1
Tyler, Texas
350 Staff | 129 Quarantined in 2020
Representing the very best in healthcare, UT Health East Texas EMS delivers an extensive network of emergency response resources covering 3.5 counties, over 4,800 sq. miles. With a fleet of over 55 ambulances, 4 EC-135 helicopters and 350+ caregivers and staff, our team handles over 80,000 EMS calls and over 57,000 emergency transports each year.
Licensed by the State of Texas for EMS transports since 1968; we support over 60 first responder agencies throughout East Texas with continuing education, training, medical control and medical supplies.
UT Health EMS is the only EMS service in East Texas to hold CAAS Accreditation (Commission on Accreditation Ambulance Standards). UT Health East Texas EMS earned CAAS accreditation in 2019 for the fourth time – most recently with a perfect score.
UT Health EMS was the first EMS service in East Texas to hold ACE Accreditation (Accredited Center of Excellence) from the International Academies of Emergency Dispatch while the UT Health East Texas AIR 1 program was the first in Texas to be CAMTS accredited.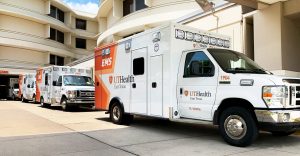 Due to the COVID-19 pandemic, UT Health EMS has experienced record 911 call volumes; with an increase of 10% 911 calls year over year.
UT Health EMS has been on the frontline for information; not only for the citizens we serve, but the multi-county first responder community. From the beginning, UT Health EMS has provided on-going medical updates and education to both city and county agencies through online webinars and teleconferences under the direction of our Medical Director, Yagnesh Desai, MD.
UT Health EMS trained, and later deployed, multiple COVID-19 Testing Strike Teams to address nursing home outbreaks at several hotspots throughout the region.
From the start, UT Health EMS was a main point of maintaining a supply chain and the distribution network of PPE resources to first responders, both in and out of our service areas. This included a distribution of over 970 gallons of sanitizer and hundreds of high-end respirators.
In addition, UT Health EMS sent ambulances and crews to assist with Tropical Storms Laura and Marco affecting the Texas/Louisiana Gulf Coast.