Quick Med Claims In 2020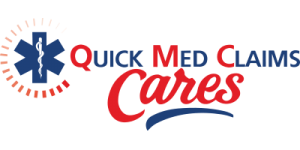 Quick Med Claims
Pittsburgh, Pennsylvania
Quick Med Claims (QMC) is proud to be a trusted revenue cycle management partner to the ambulance industry. We provide billing and consulting services to air and ground ambulance providers with the goal of compliantly maximizing reimbursement for every trip.
In the second week of March 2020, QMC transitioned more than 300 team members from seven offices across the country to 'work-at-home' status and without service interruptions!
With our team in place, we immediately focused on meeting Pandemic-related operations and communication challenges.
QMC's Leadership monitored the situation and reported out critical national and state-specific Public Health Emergency alerts to our team members. Our Operations Team halted balance billing for our clients who had accepted CARES Act stimulus funds and identified trips where verified uninsured COVID-positive patients could be submitted to the Uninsured Patient Payment Program for payment.
Our Communications Plan provided real-time guidance to providers through various platforms, including: e-mail bulletins, Live Q&A Webinars, a COVID-19 Resource Center accessible from our website, and a dedicated email address at COVIDHELP@quickmedclaims.com for assistance with any Pandemic-related issues.
"QMC Cares" became our theme as we banded together as one in a concerted effort to assist our clients and their team members with unwavering support for those who sacrifice daily on the front lines of this global emergency.
Visit our website: http://www.QuickMedClaims.com