Pafford Medical Services in 2020

Pafford Medical Services
Hope, Arkansas
1,500 Staff | 98 Quarantined in 2020
Founded in 1967, Pafford Medical Services provides over 80 communities across 8 states and the U.S. Virgin Islands with the latest, most sophisticated level of pre-hospital care. As a family-owned and operated company, Pafford is staffed 24/7/365. Over 1500 members of Team Pafford can be found operating the fleet of 200 ambulances, 4 communications centers, 3 medical fixed-wing aircraft, 3 rotor-wing aircraft to provide communities with proper 911 ambulance coverage.
In addition to the day-to-day operations, the company has become known nationwide for its Special Response Taskforce which assists during national disasters. As the company evolves to cater to the citizens it serves, Pafford took notice of the needs of industries and businesses during the global pandemic and now operates OnSite Healthcare Services in order to safeguard workforces as the world resumes operation amidst COVID-19. Another pillar of the company's mission is its promise as a contributive community partner by providing educational resources, medical equipment, and scholarships along with medical standby for special events.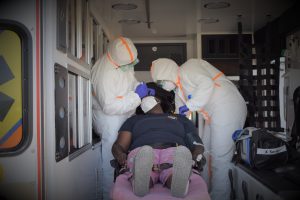 With the novel Coronavirus, EMS personnel would need to be properly trained to combat the transmission of the virus. Along with obtaining PPE for their medics, Pafford Medical Services provided additional training while increasing health surveillance, screening, and tracking of employees with the activation of their Emergency Operations Center.
Pafford remained a leader in community discussions and decisions related to COVID-19. Thanks to the diligent work and daily communications with their leadership teams, all of Pafford's systems remained fully operational.
As the world stopped turning due to COVID-19, Mother Nature did not as hurricane season came out in full force. With 8 named storms and 2 major hurricanes, Pafford's Special Response Taskforce deployed along the Gulf Coast to provide relief to the affected communities for 75 days.
"We'll never be able to fully express our gratitude to not only our management teams, but to our boots on the ground who have been in the trenches remaining strong and vigilant," says CEO, Jamie Pafford-Gresham. "Our men and women have gone beyond the call of duty–– suiting up, serving others, and their communities on the frontlines of healthcare."