Mobile Medical Response in 2020

Mobile Medical Response
Saginaw, Michigan
539 Staff | 30 Quarantined in 2020
Mobile Medical Response is a Michigan-based, non-profit ambulance service provider that operates out of Saginaw County. We specialize in pre-hospital care and medical transportation through basic, advanced, and critical care ambulances, wheelchair vans, and medical dispatching services. We are the largest agency of its kind geographically speaking in the state covering 15 counties. Every day we strive to uphold our mission in providing the communities we serve with unrivaled access to medical care.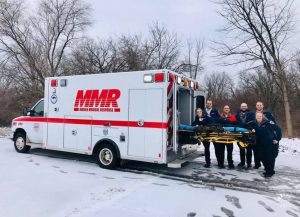 Mobile Medical Response has maintained a state of readiness for all communities we serve with emergent and non-emergent service, despite revenue shortfalls due to declined ambulance transport volumes. During this time, MMR also responded to New Jersey with a strike team of two ambulances and associated personnel assist with an influx of patients due to COVID-19. The ability of our EMS professionals to function in adverse conditions and situations is astounding and we are proud of the great work they do every day.
While navigating the COVID-19 pandemic, MMR has continued to work with opioid response initiatives and other initiatives to respond to the needs of our communities. MMR has had a positive impact in our communities during this time with the provision of EMD surveillance tools, COVID-19 transport services, and other vital pieces of a comprehensive response.
MMR is an integral part of the emergency response system in our communities as well as a resource for other initiatives. With the dedication and commitment of our staff we have been able to meet the challenges that COVID-19 has presented while also continuing to serve our communities.