Harris County Emergency Corps in 2020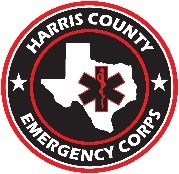 Harris County Emergency Corps
Houston, Texas
252 Staff | 72 Quarantined in 2020
As a premier mobile integrated healthcare organization, and the only Commission on Accreditation of Ambulance Services (CAAS) accredited agency with headquarters in Houston, HCEC operates as a 501c3 Non-Profit organization.
HCEC was the first EMS agency formed in the state of Texas and serves approximately 400,000 citizens within 76 square miles for Harris County Emergency Services District #1. HCEC operates 9 MICU ambulances 24/7 and 2 peak ambulances staffed 12 hours a day from 8 EMS stations strategically located throughout the territory to provide optimal response times.
HCEC also provides event medical coverage for many of Houston's major sports teams and venues, trains clinicians with highly specialized classes, and leads Houston's first Community Health Paramedic (CHP) Program. In addition, EMS and Fire dispatch services are provided for 11 agencies by our Communications Center recognized by the International Academies of Emergency Dispatch (IAED) as an Accredited Center of Excellence (ACE).
HCEC is committed to Professional Service, through Progressive Medicine, in order to continue Preserving Lives every day.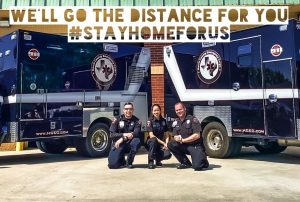 Disaster Response is nothing new to HCEC. Not only has our service area endured extraordinary damage from Hurricanes Rita, Ike, Harvey, and 2 major flooding events, but Harris County and the Houston area has also seen some of the highest number of COVID-19 cases in the State of Texas.
As part of our early response to the pandemic, the Communications center implemented new screening tools for identifying caller's COVID-19 symptoms, and Part time event medics staffed dedicated PPE units. The Clinical team also created specific guidance and flowcharts for COVID-19 responses, transports, and exposures to keep our team healthy and safe.
To support our staff, the HCEC Management team hosted daily conference calls and connected with employees through virtual Town Hall meetings. Since in-person events were no longer possible for 2020, HCEC provided daily meals and contactless snack basket deliveries for our crews and showed our appreciation by posting recognition signs at their homes.
To support our community, HCEC volunteered with Gallery Furniture and Kroger to help distribute 2000+ meal kits to Seniors in and around our service area when access to stores were limited.