EmergyCare in 2020

EmergyCare
Erie, Pennsylvania
280 Staff | 16 Quarantined in 2020
EmergyCare is one of the largest non-profit ambulance services in the Commonwealth of Pennsylvania, covering more than 2,100 square miles and protecting approximately 300,000 lives The service lines that EmergyCare provides include Emergency and Non-Emergency medical transportation at the Basic / Advanced / Critical Care Life Support levels, inter-agency paramedic intercept response, paratransit (wheelchair) / medical taxi transport solutions, tactical paramedic / SWAT Team integration, and community outreach which includes educational safety programs. The operations team consists of approximately 230 wheelchair transporters, EMTs, PHRNs and Paramedics, and a fleet of 70 vehicles including 33 ambulances stationed in Corry, Erie, Titusville, Warren, and Kane, PA. Organization-wide, EmergyCare runs approximately 65,000 transports annually. EmergyCare's Critical Care Transport Team brings the hospital ICU to the bedside of the patient. EmergyCare's Tactical Medic Team integrates with local law enforcement agencies to provide critical medical coverage in high-risk law enforcement situations.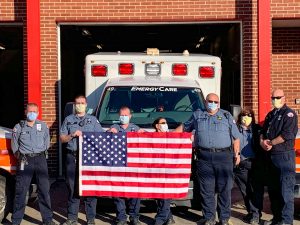 Quickly after COVID-19 became an issue in Western PA, EmergyCare was identified as a hospital surge resource, was identified and authorized to be Novel Disease Transport Team utilizing PAPR respirators, and received authorization from the PADOH to use novel disease transport equipment for long-distance COVID patients. Our organization stepped up our efforts to mitigate the impact on our staff and patients. Through grants, we secured funding to purchase ozone foggers to decontaminate our vehicles for each of our stations. We were able to work with local organizations to secure additional PPE. Our Administrative and Clinical staff were segregated to mitigate the potential spread of the virus and we instituted remote work where possible. As the provider of EMS education, our EMT and Paramedic classes were quickly transferred to remote virtual learning.
As Pennsylvania was considered one of the Presidential Election key swing states, EmergyCare EMS and Tactical Medical Team was called upon several times over the course of the campaign to provide services for both presidential campaigns by the Secret Service.