Emergent Health Partners in 2020

Emergent Health Partners
Ann Arbor, Michigan
940 Staff | 200 Quarantined in 2020
Emergent Health Partners is a nonprofit, community-owned agency operating six ambulance services across southern Michigan: Huron Valley Ambulance, Jackson Community Ambulance, LifeCare Ambulance, Monroe Community, Lenawee Community Ambulance and Albion Community Ambulance.
Emergent Health has 900+ employees whose paramedics and EMTs provide medical 9-1-1 coverage for more than 1 million Michigan residents and respond to about 200,000 medical emergencies annually. Our dedicated teams deliver high-quality prehospital care to 14 counties and 178 municipalities in southern Michigan.
Originating as Huron Valley Ambulance, our first service was founded in 1981, operating with six ambulances. We have since grown to include five more agencies that operate 100+ ambulances in the communities we serve.
Beyond our ALS/BLS operations, Emergent Health has other specialty care including Community Paramedicine and Critical Care. We also have several Special Response Teams that include an Honor Guard, HazMat, Technical Response and Tactical EMS. We are thought-leaders in out-of-hospital emergency medicine and have built a culture based on safety, quality, compassion, and professionalism.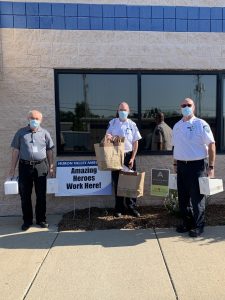 As an organization, we quickly stood up an Incident Command (ICS) Team to make quick, informed decisions on COVID-19 safety measures and new protocols. This structure has been key to adjusting our daily operations that mitigate the spread of COVID among patients and staff and making sure we have the PPE and resources necessary to weather the COVID pandemic.
Our HazMat and Special Pathogens Response Team Coordinator served as our Safety Officer. His expertise, along with several current and former county Emergency Managers on our team, helped us get a jumpstart on fighting the pandemic and shaping our response.
We developed special decontamination teams and streamlined processes to keep our ambulances and equipment clean. We implemented training for our staff on safety measures, and our wheelchair vans were converted to help transfer medically stable positive patients or double as decontamination crews during downtime.
Our employees and the community have been amazing. We have had many employees step up to support our operations, their fellow team members, and patients during this tough time. We have also seen steady support and donations from the community.