EMS Week Featured Service | Harris County Emergency Corps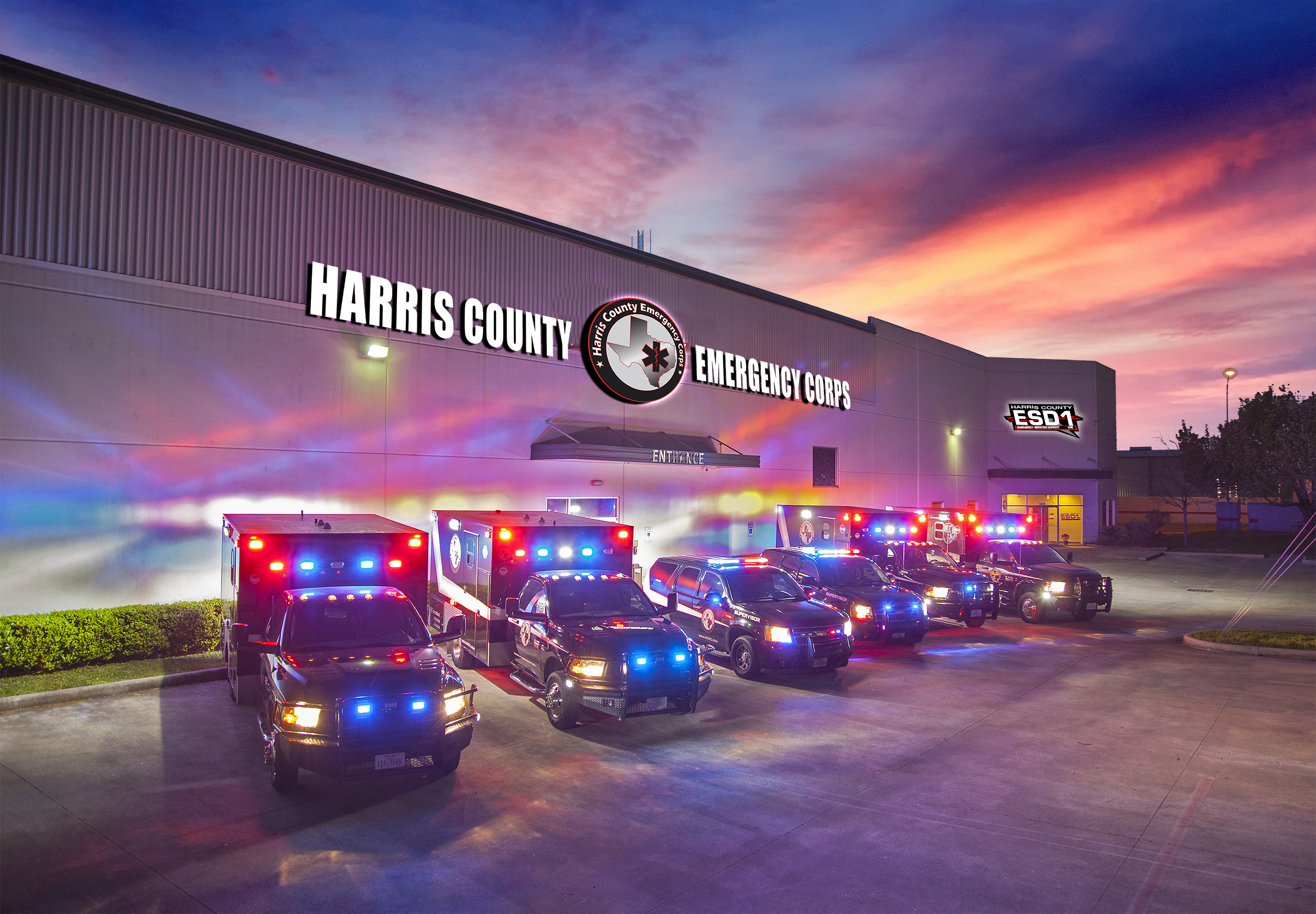 Harris County Emergency Corps
Houston, Texas
Facebook
Meet Harris County Emergency Corps
Committed to preserving lives through clinical excellence, progressive medicine, and professional service, Harris County Emergency Corps (HCEC) is a premier EMS agency and the only Commission on Accreditation of Ambulance Services accredited agency with headquarters in Houston.
HCEC was the first EMS agency formed in the state of Texas (1933). Serving approximately 400,000 citizens in 76 square miles in north Harris County, HCEC provides 911 services for Harris County Emergency Services District No. 1. HCEC also provides event medical coverage across Texas, trains clinicians with highly specialized classes, communicates with 11 other agencies through our innovative dispatch center, and leads Houston's first Community Health Paramedic Program.
The Harris County Emergency Corps COVID-19 Response
With the pandemic of COVID-19, HCEC has seen a remarkable team pull together to tackle new challenges in our community and our organization.  Utilizing the power of social media, website content, and informational flyers for our community, we have attempted to keep the public informed of best practices and resources available to them for assistance.  Responding to emergencies with an emphasis on patient and crew safety has been a top priority.
Harris County and the Houston area has seen some of the highest number of cases in the State of Texas. As a result, our Dispatch center incorporated new tools and protocols to screen for COVID-19 symptoms.  With our special events division not staffing large gatherings, part-time event medics are helping in the Communications center with screenings, and also by staffing dedicated PPE units.  To ensure additional protection, the Clinical department implemented aggressive PPE usage guidance and modified medical guidelines early on in the pandemic to keep our team healthy and safe.
Communication is crucial, not only with the community, but also with the staff.  As such, the HCEC Management team holds daily conference calls and connects weekly with employees through virtual Town Hall meetings.  In addition, our Infection control officer communicates regularly with Hospital partners to determine if our patients are positive for COVID-19.
The Harris County Emergency Corps Leadership Perspective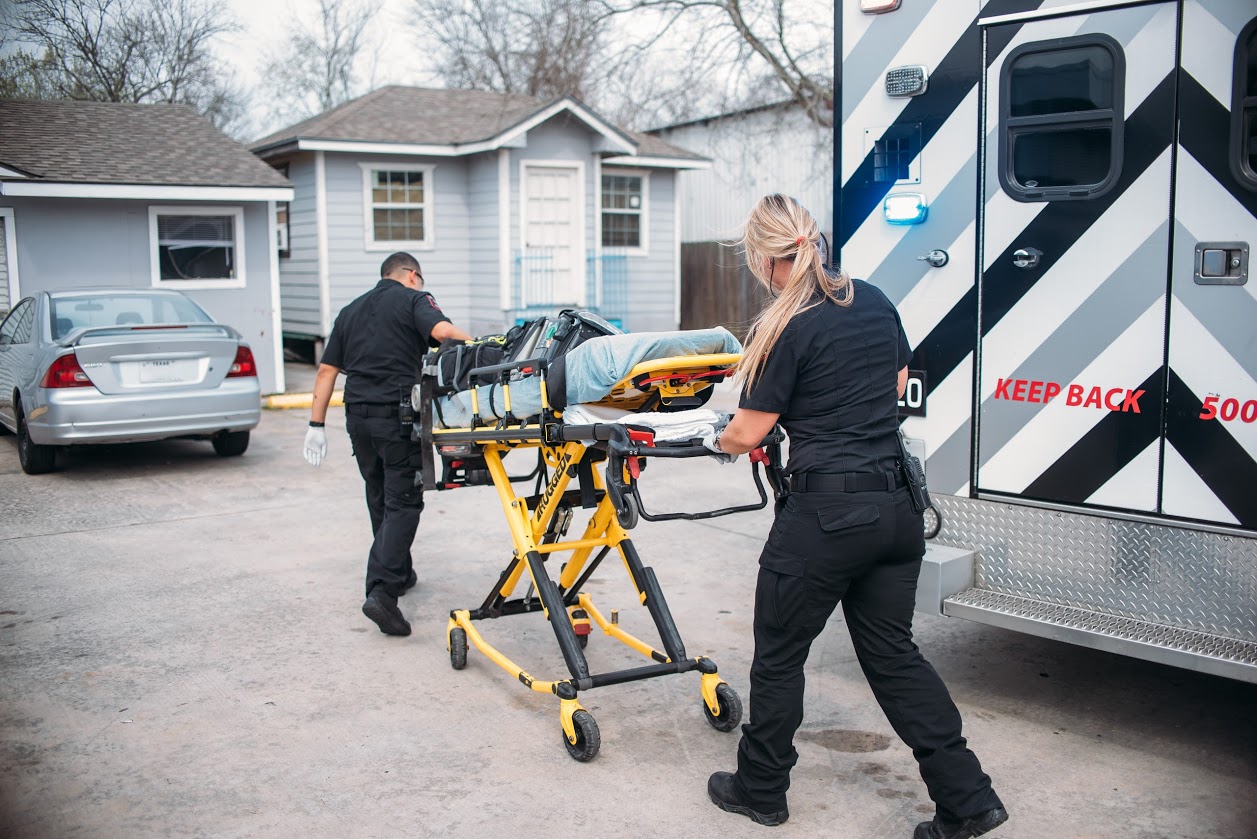 "Our team is truly remarkable. Everyone is working together with a "whatever it takes" mentality to support each other and our community to the best of our ability during the Covid-19 pandemic.  As an example, HCEC volunteered with Gallery Furniture and Kroger to help distribute over 2,000 meal kits to seniors in and around our service area."—Jeremy Hyde, CEO
Frontline Voices from Harris County Emergency Corps
"We get a chance to see people at their worst and make their day a little better. It's about making a difference every day, whether it's using ALS interventions, or just holding a patient's hand to comfort them." – Jodie Gutierrez, 911 Paramedic
"EMS is important because it gives us a chance to help those that need us most. It provides a comfort to know that we will always be there." – Amanda Crystal, 911 Paramedic
"EMS is important because it helps to circle and close the loop within communities and population health."– Steven Nelson, 911 Paramedic
Taking care of employees to the best of our abilities is always a top priority for HCEC.  Executive Director Jeremy Hyde has brought in a mobile barber for the staff to get free haircuts on two different occasions during COVID.  Ed Kolczynksi, Receptionist for HCEC had this to say about the experience, "This was just amazing! HCEC cares more about their employees than any other company I've ever worked for, and I've been working for a really long time! Not to mention, I got a great haircut, and it only cost me a $5.00 tip."
Will Barrett, HR Coordinator for HCEC offers a positive effect from COVID; "COVID has brought people together. Neighbors wave more and say hello when we see each other; some have even offered us supplies, like masks and cleaners. We have more conversations from across our lawns with one another due to limited contact with other people, whereas before, we barely communicated."
"For EMS support staff working remote, COVID-19 has changed the way we manage our 'new normal'. Dining room tables have become our desks, and the refrigerator has become our enemy!"—Toya Thompkins, Payroll Coordinator
"EMS is extremely important, whether in a pandemic or a "normal" day in Houston. We respond to a variety of calls each day, and for many, it is one of the worst days of their life.  I see my co-workers make a difference in people's lives every single day." – Anonymous 911 medic
How Harris County Emergency Corps Celebrates EMS Week
EMS Week at HCEC will be different this year in a variety of ways. Typically we have a large banquet where we celebrate milestones and provide recognition awards. This year, however, we are scheduling a company-wide picnic later in the year when it is safe to celebrate in person with our staff and their families.
EMS week is also normally filled with daily social events at HCEC. Even though COVID19 will keep us from celebrating in a group setting, we will provide drop off service at each station for meals and snack baskets and conduct contests throughout the week for each shift.  In addition, our annual Commemorative T-shirt Design contest is already underway.  Employees who submit artwork utilizing the National EMS week slogan are entered into the contest.  The winning design artist is recognized in our newsletter and social media and awarded a $100 gift card, while all employees receive a free commemorative T-shirt celebrating EMS week.
HCEC will also be surprising the staff during EMS Week with an early distribution of our annual longevity bonus.
2020, COVID-19 coronavirus, EMS Week, Harris County Emergency Corps, Texas