Mercury Public Affairs Update
AAA has teamed up with Mercury Public Affairs to run a robust public affairs campaign to complement our already established lobbying efforts. We are making sure our concerns as frontline EMS responders are heard, by targeting 27 key Senators and Representatives to Congress around the nation.  We are asking them to be the champions we need in Congress and to make sure all of our emergency first responders have the resources they need.
The campaign has been a great success. Major media outlets have picked up our stories, our digital campaign is having higher than industry average conversion rates, and our patch through calls, which have had extremely high percentages of people willing to speak Congressional offices, have been able to provide a steady drumbeat for our issues where it matters.
These  metrics, coupled with the positive feedback we have received from Congressional offices show that notonly do we have the right message, but also that our emergency first responders are being recognized for the work they do during this national health crisis.
It is also helping to build legislative momentum.
We will update you on the campaign as we move forward, but wanted to take some time to share some highlights. 
Media
AAA is running an earned media campaign around issues such as allowing for CMS reimbursement waivers. One of the highlights of this effort has been the following story published in the Wall Street Journal and subsequently featured in the Washington Post Healthcare 202 Newsletter: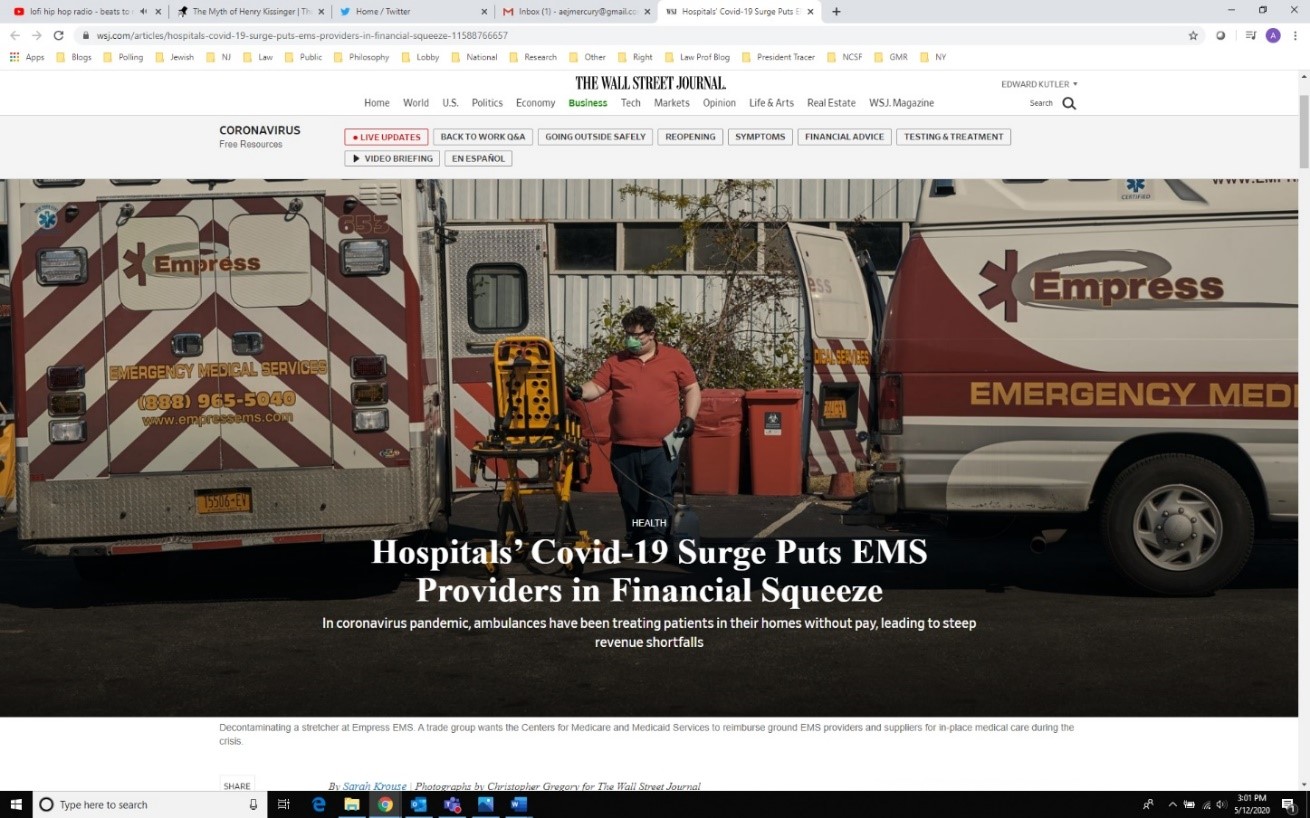 Digital Campaign
AAA is running a digital advertising campaign targeted in Congressional districts and states. This campaign will continue with the addition of text messaging in the coming days. Thus far, we have accomplished the following:


Patch Through Calls
AAA ran a 10-day patch through call campaign strategically targeted to Congressional district offices and Senate district offices that complemented the digital campaign:
8,050 calls delivered in total over the last two weeks.
This is roughly 15-25 calls per office per day and 200-450 calls per legislator in total.
95% of voters contacted supported AAA's position. 86% of those supporters were willing to patch-through to their elected official's office.  These rates are much higher than numbers we are used to seeing for this type of effort.
American Medical Response (AMR), COVID-19 coronavirus, Global Medical Response (GMR), Mercury Group, Personal Protective Equipment (PPE)