EMS Week Featured Service | Acadian Ambulance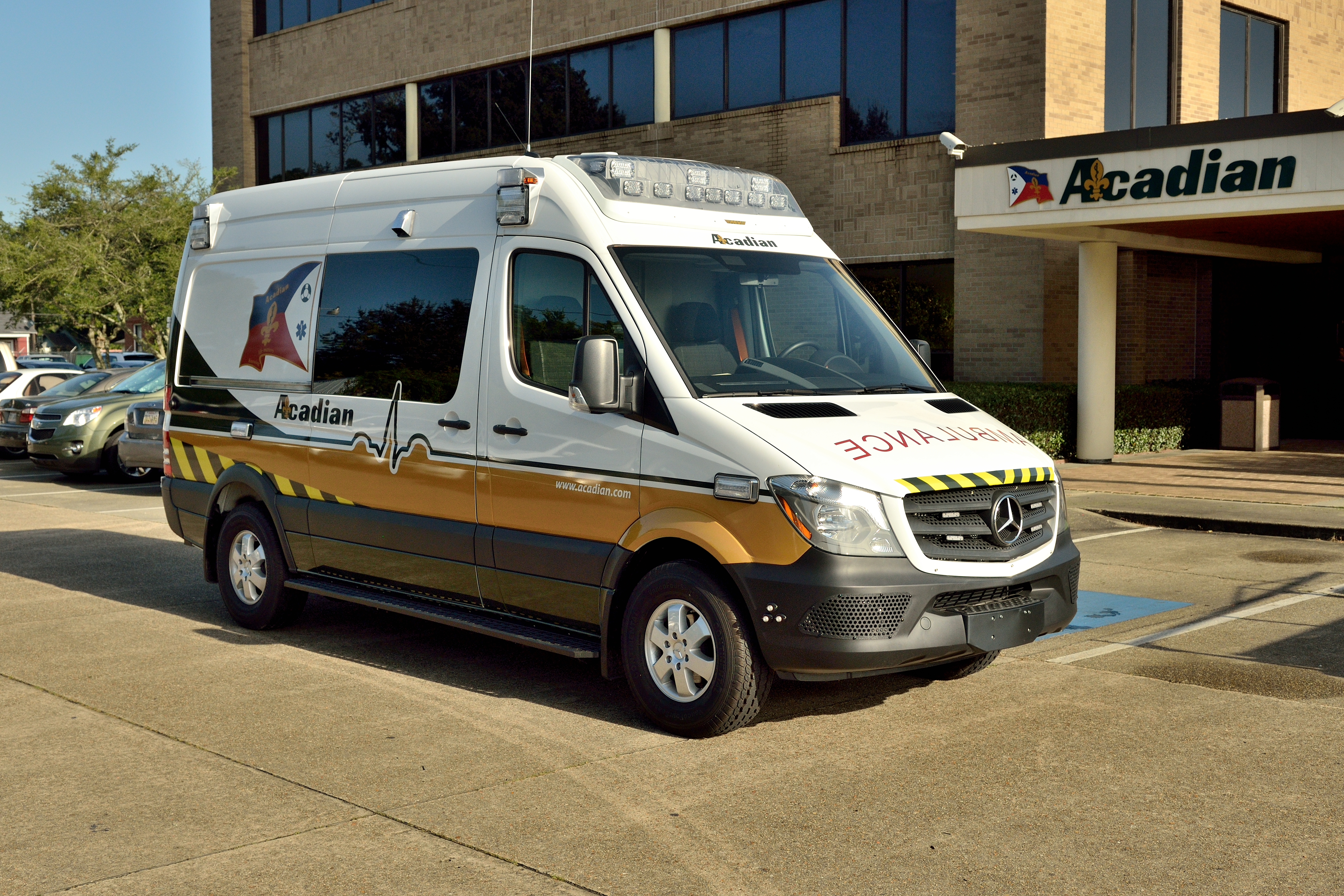 Acadian Ambulance
Lafayette, Louisiana
Facebook | Twitter
Meet Acadian Ambulance
Acadian Ambulance Service began operations in September 1971 in Lafayette, Louisiana. Over the past 49 years, our company has expanded to include health, safety, security and transportation services. Acadian Companies, which comprises Acadian Ambulance, Acadian Air Med, Executive Aircraft Charter Service, Acadian Total Security, National EMS Academy and Safety Management Systems, has grown to employ nearly 5,000 employees across the United States.
Acadian Ambulance currently operates in more than 70 parishes and counties spanning Louisiana, Mississippi, Tennessee and Texas, providing service to more than 21 million residents and covering almost 60,000 square miles. Our medical fleet includes more than 600 ground ambulances, vans, ambulance buses, helicopters and fixed-wing airplanes. We provide emergency and non-emergency, helicopter and fixed-wing medical transport, mobile healthcare, community event support and contracted event standbys at venues including the Mercedes-Benz Superdome in New Orleans, Minute Maid Park in Houston and FedEx Forum in Memphis.
The Acadian Ambulance COVID-19 Response
When COVID-19 cases began rising in Louisiana, Acadian Ambulance was immediately on the front lines, transporting suspected patients and working to protect employees from exposure. We have worked hand-in-hand with other EMS agencies and first responders throughout our service area, particularly in hard-hit New Orleans.
Under contracts with the Louisiana Governor's Office of Homeland Security and Emergency Preparedness and Louisiana Ambulance Alliance, we staffed surge units from our other Louisiana regions that were sent to New Orleans. Most have since been deactivated.
We have also sent strike teams with medics from our Texas operations to assist in New Orleans.
We have assisted with operations at the Ernest N. Morial Convention Center in New Orleans since it opened in early April as a temporary hospital for less severe COVID-19 patients.
In addition to these specialized efforts, our medics continue to run calls 24/7, whether related to COVID-19 or not. They continue to follow protocols on proper PPE and patient interaction in order to limit exposure.
Our safety director and operations management worked hard to procure half-face respirators for our front line medics so that they could feel a stronger sense of security against exposure.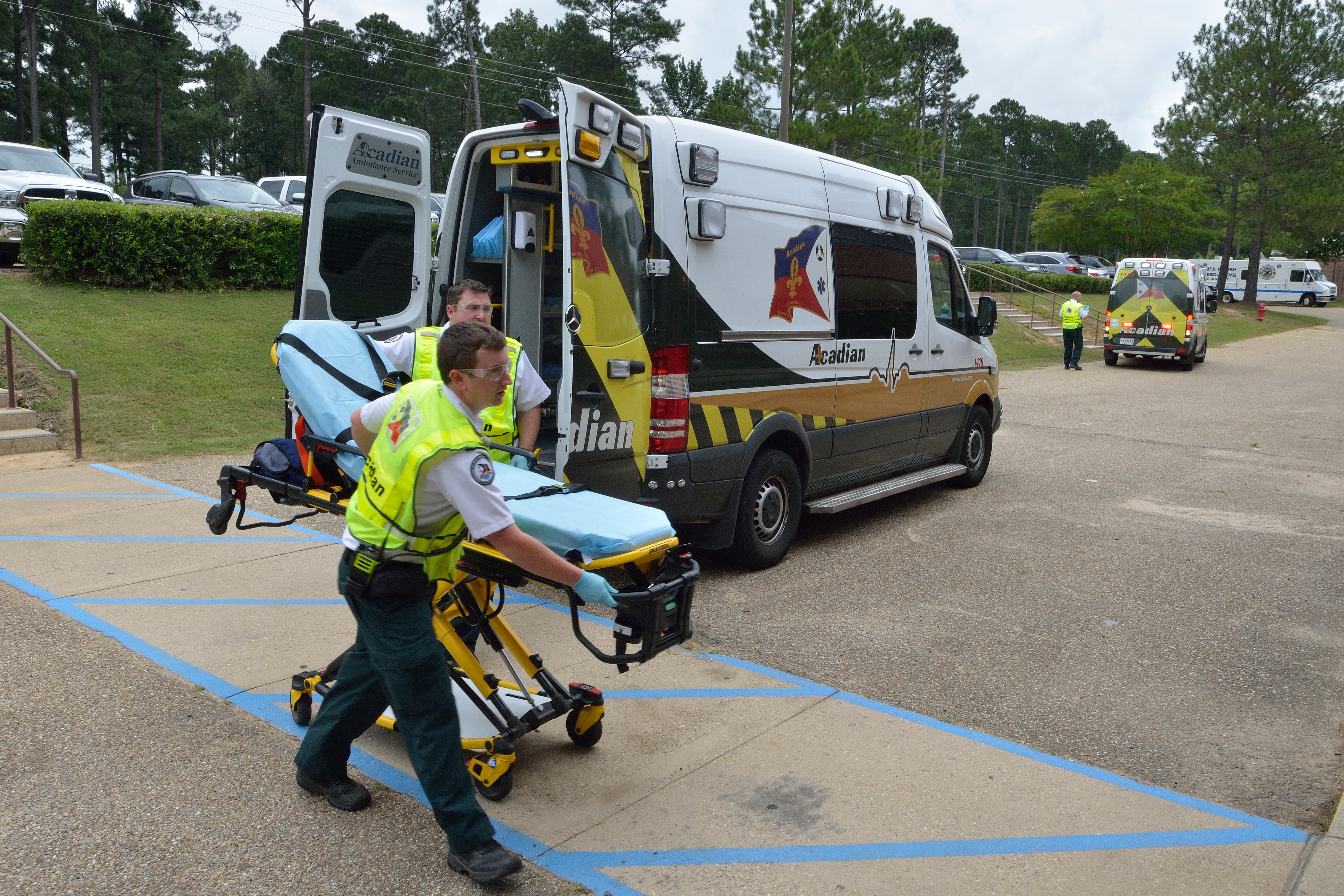 Our medical directors, Dr. Chuck Burnell and Dr. Emily Kidd, along with our safety director, Neil Davis, have recorded near-daily update videos that are shared with our employees. The topics range from PPE protocol, operations updates, safety directives and latest statistics to messages of encouragement and support.
Our Chairman & CEO, Richard Zuschlag, has also recorded video messages for employees and the public to share his gratitude and support.
We have been utilizing our social media channels to share important messages for the community in staying protected, along with spotlighting our front line medics and thanking the numerous businesses and individuals who have graciously donated PPE and food to our company and displayed their support in other ways.
The Acadian Ambulance Leadership Perspective
"Our entire team has been doing outstanding work since this pandemic started. Our medics are facing daunting challenges on the front line, our support teams have stepped up so that our medics can fulfill their mission and our Safety Management Systems teams have shifted their skill sets to provide essential screening and disinfection verification services to a variety of industries. Everyone at Acadian is playing a part in what will be another cornerstone in our history. This time has truly shown how we embody One Team, One Mission."

Richard Zuschlag, Acadian Ambulance Chairman & CEO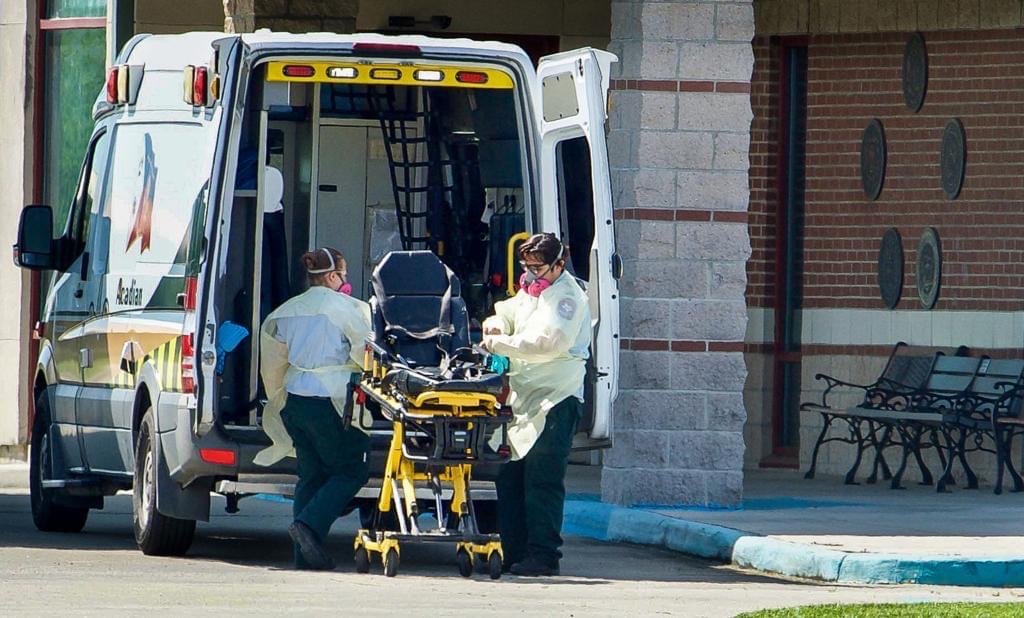 Frontline Voices from Acadian Ambulance
"EMS is a lifesaving link between people who need medical care, but are unable to get to a hospital, and the physicians and hospitals themselves. EMS allows highly trained paramedics and EMTs to bring ER- and ICU-level care to people wherever they may be, and continue that high-quality care en route to the hospital, which greatly increases chances for survival and improves patient outcomes."
Adam Olivier,  Acadian Ambulance Operations Coordinator
"My definition of success is to constantly advance and to never stop learning about what I'm invested in. That mindset carries over to EMS and its importance in community awareness. When emergency providers are able to educate and care for members of their community, those small moments can help individuals improve their personal health. Continue to progress as an EMS provider, improving the lives of those around you, and that definition of success will grow in your community, one patient at a time."

Liz Hill, Acadian Ambulance EMT
"Our medics are constantly involved in the hardest moments of life. In those moments, they have the opportunity to bring relief and comfort to painful situations, and every day, that's exactly what they do. "

Lauren Anzalone Ramos, Acadian Ambulance High School Outreach Coordinator
How Acadian Ambulance Celebrates EMS Week
We will be spotlighting our medics on social media and honoring EMS professionals across the nation.
The Louisiana Bureau of EMS has launched a White Ribbon Campaign to coincide with EMS Week. We will help promote the campaign and encourage all Acadian employees to participate. The campaign calls for people to place a white ribbon on their mailbox, front door, vehicle window or anywhere visible to show support of EMS professionals.
The Bureau of EMS has also developed yard signs featuring a "Healthcare Hero Lives Here" that we will be distributing among our medic staff.