Savvik: Genlantis Ozilla Sterilization System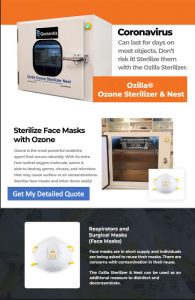 Through Savvik's partnership with Genlantis, we are able to offer this unique unit that could be vital to your members.  This is not cheap to purchase, but if you look at the cost (and limited availability) of protection equipment this starts to make financial sense.  The base cost of the Ozilla $4,799 plus packing and freight.   The optional NEST unit runs $2,059.  With the size and weight of the shipping unit  (36x33x32) , we will need to quote the total delivered based on units and location.  The quote link is below.
Lead time is 2-3 weeks.
http://go.savvik.com/Ozilla.html
Ozone is the most powerful oxidative agent that occurs naturally. With its extra free radical oxygen molecule, ozone is able to destroy germs, viruses, and microbes that may cause surface or air contaminations. Furthermore, ozone leaves no chemical residue typical of alternative detergent or synthetic cleaners, and if handled properly, by converting ozone back to oxygen molecules, it can be one of the most effective sterilizing tools. Ozone is a powerful and natural purifier, and now with the Ozilla® Ozone Sterilizer, Genlantis has made it safer and easier than ever to use ozone gas for multiple sterilization applications.
The Genlantis Ozilla® Sterilization System is a high quality, compact and purpose-built ozone gas generator measuring 13 x 11 x 5 inches. When used properly, it is able to eliminate airborne and surface contaminants and germs. The Ozilla sterilizer is easy and safe to use and has a novel -scrubbing- technology that removes all ozone gases at the end of each sterilization cycle, by converting ozone gas back to oxygen.  As an added advantage, the Ozilla air sterilizer will leave your room or cabinet odor-free and smelling fresh, clean, and ready for your next usage.
COVID-19 coronavirus, Personal Protective Equipment (PPE), Savvik Buying Group