EMS Week Contest Winners Announced
EMS professionals across the country recently celebrated EMS Week, held May 21-27, by hosting a variety of activities, memorials and both fun-filled and informative events. The AAA asked our members to tell us about some of their favorite ways they honored and celebrated their profession throughout the week, and we have selected three stories as our EMS Week contest winners. Here are some of the highlights: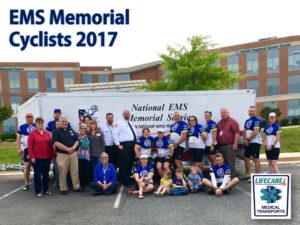 LifeCare Medical Transports (Fredericksburg, VA): "This year's EMS Week began with us honoring those who gave their lives so that others might live, at our National EMS Memorial Service. On Sunday, May 21, we co-hosted the EMS Service Cyclists for a dinner on their stop in Fredericksburg, VA. The remainder of the week consisted of fun yet educational online EMS Challenges each day, with participants being entered into raffles for great prizes. All employees received a letter from our leadership, as well as EMS gift bags."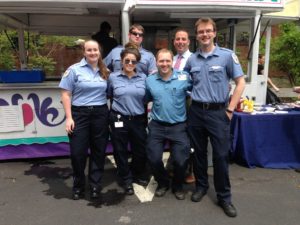 Armstrong Ambulance Service (Arlington, MA): "We love celebrating our employees every year with a week-long celebration of EMS Week. We annually begin the week with breakfast catered to the bases. This year, we brought carnival food trucks to the bases for a catered lunch of fair food favorites, including hot dogs, hamburgers, sausages and fried dough. On Friday, an ice cream truck visited the bases with sweet treats!
One of our favorite traditions is our EMS Week scavenger hunt. Field crews are given a list of tasks that allow them to interact with our community and that they must complete within 12 hours. The submissions are always hilarious! Throughout the week, we also hold various giveaways for local concerts, Red Sox games and gift certificates."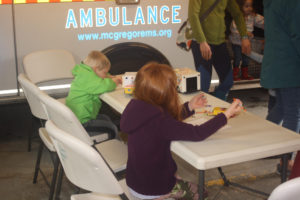 McGregor Memorial EMS (Durham, NH): During the week, preschoolers and parents participated in the educational "Boo-Boo Bus" activity, in which children placed band-aids on teddy bears, and kids also participated in several coloring activities.
We also do "CPR on the Street," in which we set up a tent and table with educational materials on CPR, and we have several mannequins that the public can use to learn "hands-only" CPR.

Finally, there is a volunteer-created place mat that we distributed to local restaurants. We distributed 600 place mats and crayons that were full of informational tidbits, as well as coloring areas and a maze puzzle."
Thank you to all those who participated, and congratulations to our winners!
Armstrong Ambulance Service, EMS Week, LifeCare Medical Transports, Massachusetts, McGregor EMS, New Hampshire, Virginia