AAA Spotlight: New Britain EMS
New Britain EMS: Energized to Succeed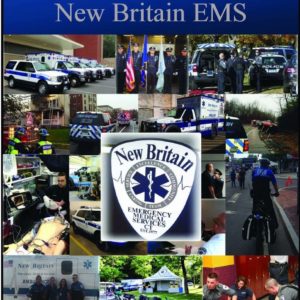 New Britain, Connecticut lies just nine miles southwest of Hartford. Its 73,000 residents and visitors to this region of soft rolling hills and young forests are served by New Britain EMS, one of the first grant-funded emergency medical services organizations in the country. Founded in 1977, the service annually responds to 13,500 9-1-1 requests and transports 11,550 patients.
Emphasis on company culture is a driving force at NBEMS. The core values of Community, Team, Service, Caring, and Excellence are reinforced at every opportunity. Teams work closely and embrace a commitment to personal and group excellence. The office space for medics, a comfortable, open area, fosters collaboration and sharing. Senior staff's offices are nearby and on-duty leaders are always accessible to the teams.
"Our organizational culture is one where learning is energized at all levels," explained NBEMS CEO Chief Bruce Baxter, "and employees are taught to focus on the continuous improvement of their skills."
From the early days of their employment, team members experiment, acquire valuable experience, and grow—both as people and as practitioners. Honest mistakes are not to be feared, provided they are made with a commitment to ongoing personal and professional development. From adopting best practices for medics to the future of mobile integrated health, NBEMS is an ambulance service committed to improving itself, and by extension, the quality of care provided to its patients and the community.
Recognized for its Clinical Quality Improvement Program
NBEMS, for the third year in a row, received the recognition in the American Heart Association's Mission: Lifeline® Program; most recently with the Silver Medal Award. This national recognition is given to services for implementing excellent quality improvement measures for the treatment of patients who experience severe heart attacks (STEMI).
QI highlights one of many ways an ambulance service can have a significant impact on community health beyond providing ambulance transports. Lieutenant Pat Ciardullo, head of the NBEMS QI Program, feels strongly that proactively addressing future challenges is the key to continuous advancement.
"While it is important to read run reports and reflect on what transpired in past calls," Lt. Ciardullo explained, "the benefit of a strenuous QI program is to address issues before they become a problem."
Quality is evident in the stations and ambulances equipped with the best information systems and medical technology on the market. Lucas CPR devices, EZ-IO drills, and video laryngoscopes are a few examples of investments that have led to optimal patient outcomes and widened the scope of practice for medics in the field.
Care and training for the caregivers
Leadership looks beyond supporting professional expertise to recognizing the needs of team members as holistic people. In the face of a growing national awareness of EMS suicide and depression, Lt. Ciardullo is spearheading the effort to incorporate mental health into QI metrics. Currently studying to become a chaplain, Lt. Ciardullo and the leadership team are researching innovative, evidence-based methods to tackle the issue of post-traumatic stress at work.
Many Paramedics are introduced to NBEMS long before their first shift on a blue and white ambulance. Expert NBEMS faculty teaches at the New Britain EMS Training Academy, which educates paramedics bound for service in New Britain and other nearby communities. The Academy helps services to weather the EMS recruitment and retention crisis, providing educational services and support to the greater New Britain community, healthcare providers, and general business and industry.
When hiring new employees, NBEMS emphasizes finding the right candidate, one able to fit into this distinct organizational culture. New-hires complete a three-phase, 12-week training program with Field Training Officers [FTOs] before assignment to a specific crew and then release to work on their own. Both Chief Baxter and Lt. Ciardullo highlight how important it is to impart early on NBEMS culture and procedures to a new employee and FTOs are vital to this education. This combination of great training, a solid hiring process, and a strong organizational culture has raised the average tenure of a fulltime NBEMS employee to 7.5 years and more than ten years for senior leadership.
Proud member of the American Ambulance Association for 20 years
"The AAA is our silent partner," said Chief Baxter, "and an important contributor to our success. The AAA Employee Assistance Program (EAP), group purchasing programs, and access to expert consultants have saved us thousands every year."
NBEMS actively participates in AAA's advocacy efforts on behalf of the ambulance industry as a whole, including key reimbursement legislation to ensure sustainable funding for the smaller EMS services—like New Britain—that are so critical to their communities. Chief Baxter explains that the AAA's efforts to re-categorize ambulance services from suppliers of a service to providers of healthcare under Medicare would allow services like New Britain to be reimbursed more fairly.
Chief Baxter also appreciates AAA educational opportunities, which allow the NBEMS team to gain knowledge and skills from, as well as to share ideas with, fellow forward-thinking ambulance services from across the country.