President-Elect Trump has nominated Dr. Tom Price for the position of Secretary of the Department of Health and Human Services. Rep. Tom Price has served as the Congressman for the Sixth District of Georgia since 2005. He is currently the Chairman of the House Budget Committee.
Chairman Price received his B.A. and M.D. from the University of Michigan. He was first elected to Congress in 2004 and has served as on the Ways & Means committee and as Budget Committee chairman. Chairman Price opposes expanding the Affordable Care Act, voted for MACRA, supports expanded use of Health Savings Accounts, and providing age-adjusted tax credits.
Akin Gump has put together a detailed summary of legislation introduced by Rep. Price's to repeal and replace the Affordable Care Act (H.R. 2300, the Empowering Patients First Act).
5 Things To Know About Rep. Tom Price's Health Care Ideas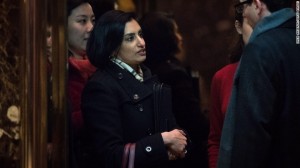 The President-Elect has also nominated Seema Verma for the position of CMS Administrator. Currently, she is the founder and CEO of a health policy consulting firm in Indiana. She is a close advisor to Vice President-Elect Pence and worked as a policy advisor for Governor Pence, focusing on Medicaid and public health.
Prior to consulting, Ms. Verma served as Vice President of Planning for the Health & Hospital Corporation of Marion County and as a Director with the Association of State and Territorial Health Officials (ASTHO) in Washington D.C. She received her Master's degree in Public Health with concentration in health policy and management from Johns Hopkins University and her Bachelor's degree in Life Sciences from the University of Maryland.
Trump Picks Seema Verma To Run Medicare And Medicaid
The AAA will keep you posted as we learn more about the plans and potential policies of Chairman Price and Ms. Verma.