2016 AMBY Best Use of Technology: Trinity EMS & Firstwatch, Opioid Epidemic Project
Congratulations to the 2016 AMBY Award Winners
Each year, the American Ambulance Association honors best practices, ingenuity, and innovation from EMS providers across the country with our AMBY Awards. 
Trinity EMS & FirstWatch Opioid Epidemic Project Awarded a 2016 AMBY for Best Use of Technology
Trinity EMS & FirstWatch | Massachusetts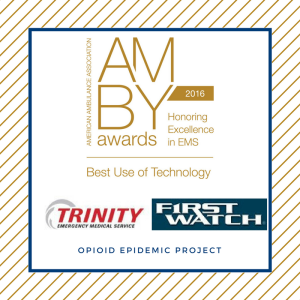 Massachusetts has seen a massive increase in opiate overdoses and deaths. In 2013 there were 918 opiate related deaths in Massachusetts. Massachusetts had 1531 deaths in the first six months of 2016. Many of the communities Trinity EMS serves are on the front lines of this issue. Their EMT's and paramedics are helping to revive patients every day from an opiate overdose. Understanding the scope of an issue is a critical first step to solving an issue. They started using their PCR data to help frame the issue for their communities. They began tracking the demographics such as age and gender of the patients, time of day and day of the week, and location within the communities. They also monitor the volume to identify spikes in volume in individual communities and system wide. Trinity reported data monthly, one month behind to the health department, public safety partners, methadone clinics, hospitals and city governments. This data was well received. Other services contacted them for help in developing their tracking and reporting. They added FirstWatch to their program to speed up the notifications. Monthly reporting is still valuable. Instant reporting is even better. FirstWatch allows their communities to be notified within an hour of an opiate overdose. Public health and public safety now have this intelligence right away.
The goal was to gather and present data in a cross discipline format for aid with better understanding on the situation. First responders, law enforcement, public health, EMS, and district attorneys, and the press have received and used their data. Trinity wanted to show:
The profile of the patients we are seeing
The frequency of the patients
The location and time of the overdoses
The severity of the patients. (Our volume of overdoses have leveled off, the acuity of the patents is still increasing)
Our monthly report is a key performance indicator as to the opiate issue at the street level in our communities
Our needle pick up data indicated where outdoor intravenous drug use is happening
Many of the overdose calls to the 911 centers are not communicated as being overdoses; "fall", "respiratory", "unconscious" are common chief complaints at dispatch. This data would not have been collected and reported using chief complaint as a filter
When it became clear the opiate issue was becoming a wide spread crisis Trinity started working the issue. They knew their best area to provide data from was PCRs. They came up with a set of data points they thought would help. They attended many meetings and public events. During those forums dozens of additional questions and theories came forward. Trinity took and implemented all that they had data for. (Example. There was question about social benefits and opiate use. They are able to show on an ongoing basis that there is no correlation between opiate overdoses and the 1st and 15th of the month.)
Before 2015, Trinity reported opiate overdoses usually annually only when requested. Starting in 2015 they reported monthly. They wanted to provide data even quicker. Trinity had seen FirstWatch a few years before. They felt the speed and automation FirstWatch could provide was a critical improvement. The intelligence gathered with knowing in live time of opiate overdoses can't be overstated. The automation allows that intelligence to be gathered no matter the day or time.
Trinity started working with FirstWatch in December 2015. In May 2016, Trinity put FirstWatch directly into the hands of public health, public safety and public schools. Each discipline has a HIPAA compliant login with access to data specific to their mission. They worked very closely with FirstWatch so they could understand the capabilities within the system. They brought the idea and FirstWatch brought the execution and focus. The FirstWatch platform is amazingly powerful for Trinity, to provide live access is amazing. In June 2016, Trinity participated in a Middlesex County District Attorney opiate task force meeting. Trinity had earlier in the meeting done a 20 minute presentation on the opiate crisis in our city. This provided the 70 people in attendance a fresh look at the data. Towards the end of the meeting conference to alert families and friends of addicts to watch their loved ones, and scheduled "emergency" Narcan administration training for the community. During DA Ryan's presentation, Trinity received a FirstWatch alert for a 39 year old female opiate overdose from 30 minutes before. Three minutes later they received another alert for a 41 year old female that suffered a fatal opiate overdose. They were able to share that with the group and drive home the DA's message.
The City Governments, Public Health, Police and Fire Departments in Trinity's communities were eager to learn about the data they were able to collect, and their data began to become focal points at press conferences and city council meetings. News agencies began contacting Trinity to help paint the picture of the epidemic in feature stories. In sharing the mapping aspect of Firstwatch they hope that these agencies can further understand the epidemic and develop plans to combat it. Trinity has become the de facto subject matter experts of the opiate crisis.
Congratulations to Trinity EMS and FirstWatch for their selection as 2016 AMBY Winners.
2016, Best Use of Technology, FirstWatch, Massachusetts, opioids, Trinity EMS