2016 AMBY Best Public Relations Campaign: EMSA, CPR Education Program
Congratulations to the 2016 AMBY Award Winners
Each year, the American Ambulance Association honors best practices, ingenuity, and innovation from EMS providers across the country with our AMBY Awards. 
EMSA CPR Education Program Awarded a 2016 AMBY for Best Public Relations Campaign
Emergency Medical Services Authority (EMSA) | Tulsa, Oklahoma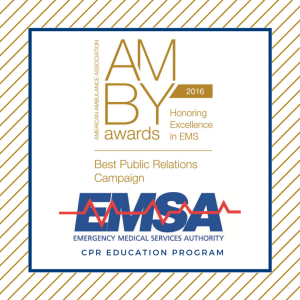 EMSA, the Emergency Medical Services Authority, is Oklahoma's largest provider of pre-hospital emergency medical care. We provide ambulance service to more than 1.1 million residents in central and northeast Oklahoma. EMSA was established in Tulsa in 1977 and later expanded to include Bixby, Jenks and Sand Springs. EMSA began providing service to Oklahoma City in 1990. EMSA is the ambulance provider in 16 cities across the state. As a public trust authority of the City of Tulsa and City of Oklahoma City governments, EMSA is charged with ensuring the highest quality of emergency medical service at the best possible price. There are several entities that work together in the EMSA system, including the Cities of Oklahoma City and Tulsa, the medical director, and the contracted ambulance provider. EMSA oversees all business aspects including ambulances and other capital equipment, maintaining patient records, billing and more. The medical director conducts routine audits and testing of all medics practicing in the system, writes seamless protocols to ensure the continuity of care between first responders and transport medics, researches new treatment modalities and evaluates complaints. EMSA is committed to training and building awareness about CPR in EMSA's 16 service areas. The program includes a variety of year-round opportunities to learn Hands-Only CPR(TM), as well as leveraging various opportunities to promote CPR education through traditional earned media, digital advertising, and social media. Also, EMSA medics were part of a national challenge to train as many local citizens as possible in Hands-Only CPR, called World CPR Day.
The CPR Education Program had one ultimate goal which was to increase the number of Oklahoma citizens who can effectively do CPR statewide (mostly Hands-Only CPR). The secondary goal was to connect the message of health care expertise and community involvement with EMSA, as an organization, by providing non-emergency interactions with EMSA medics and promoting CPR-related stories in earned media and digital platforms. Two measurable objectives were identified for the CPR Education Program.
Primary Objective
The first objective was to train more than 2,000 Oklahomans on how to conduct Hands-Only CPR on World CPR Day and 10,000 at the Tulsa State Fair and Oklahoma City State Fair. The second specific objective was to utilize earned media, social media, events and public figures to educate the community that EMSA is their CPR resource for training.
For many years EMSA, along with its 16 partnering first-responder agencies, achieved a heart attack survival rate six times higher than the national average. Recognizing that bystander response times were integrated into this health outcome, EMSA noted an opportunity to magnify and improve these successful numbers. The heart attack survival rate results are based on patients in cardiac arrest who received some form of bystander CPR and were found in a shockable rhythm (an ECG rhythm that is treatable using defibrillation) on first EMS contact.
Secondary Objective
The American Heart Association Research The American Heart Association conducts numerous studies on the impact of bystander CPR. These studies prove that during cardiac arrest a person's survival chance increases significantly with immediate CPR, that CPR can be taught in a very short amount of time, and that compression-only CPR is effective for saving lives. When paramedics arrive on-scene, a patient who is in cardiac arrest and is found in a shockable rhythm (an ECG rhythm that is treatable using defibrillation) is more likely to survive if they receive some form of bystander CPR. The impact of bystander CPR has improved significantly in the past decade. In 2010, the AMR bystander CPR rate was 21.4 percent and in 2014 it increased to 40.8 percent.
Every five years, EMSA conducts a citizen survey to review the perception of services. The most recent report (2012) shows 80 percent of people who use EMSA have a positive impression. Additionally, the public responds extremely favorably to medics and paramedics; however, most people don't meet a medic until they're experiencing a medical emergency. Utilizing this information EMSA expanded its public events to put medics in front of potential patients more regularly — before they experience an emergency. Although the CPR Campaign primarily focuses on health-outcomes related to cardiac arrest, a secondary benefit is providing one-on-one opportunities for the general public to spend with EMSA medics, allowing those without ambulance-experience to see first-hand the caring and compassionate men and women who work at EMSA.
In order to build community awareness around the health impact of knowing CPR, EMSA focused on two general audiences: the first included citizens of EMSA's service area without Hands-Only CPR training, the second group was the opinion leaders. The opinion leaders with the highest stakes for improving health outcomes on a statewide basis were determined to be elected officials.
EMSA has conducted CPR training throughout the community for decades. EMSA also partners with other CPR-certification agencies to increase access to CPR education. For the past three years, EMSA has organized an annual special event to train a large number of citizens in Hands-Only CPR and also communicate the importance of learning CPR. In addition, EMSA provides stand-by ambulances at the Oklahoma State Tulsa State fair annually; during the fair EMSA utilizes an informational booth space to provide citizens with an opportunity to learn CPR.
The CPR Education Program consisted of three key areas. The first was participation in large-scale events that provide an opportunity for training a large number of people (World CPR Day and the two State Fairs). These larger events would be used as a catalyst. The second area was building awareness that EMSA offers CPR training, both Hands-Only and traditional CPR, to the general public within their service area. The final area was recruiting a prominent Oklahoman to participate in a CPR training in order to maximize attention to the importance of CPR training for all individuals. All of the focus areas, and the message that CPR saves lives, were promoted through traditional earned media, advertising, and social engagement.
Large-Scale Training Events
World CPR Day is organized on a national level by AMR and on a local level by EMSA. Each year the EMSA communications team strategically identifies partnership events and organizations to bring Hands-Only CPR in front of Tulsa and Oklahoma City-area citizens. There are many options annually because the wide audience-base includes all individuals in EMSA's service area without Hands-Only CPR training. EMSA hosted CPR trainings throughout coverage areas utilizing ongoing events at businesses and organizations, such as the business board meetings. Some trainings were private and others were public events. Utilizing earned media and social media, World CPR Day was heavily promoted and resulted in strong participation. Reviewing the World CPR date and community events we noticed the two largest events that could incorporate CPR training were the Big 12 Baseball tournament and the Dallas Cowboys Mobile Museum. These two events were slated to attract large crowds of active Tulsans ideal for learning Hands-Only CPR. EMSA worked alongside the Tulsa Regional Chamber to coordinate a training site at Fan Fest, the fair-like celebration that runs concurrently during the Big 12 Baseball Tournaments. EMSA also had the Dallas Cowboys mobile museum for their evening sessions at LaFortune Park. In addition to the large public trainings, EMSA hosted smaller CPR trainings throughout our coverage areas utilizing ongoing events at area businesses and organizations, such as the Jenks Chamber of Commerce Board Meeting. The largest private training was at Roosevelt Middle School in Oklahoma City where EMSA trained more than 600 students. The Tulsa and Oklahoma City State Fairs provide easy-access to large groups of Oklahoma residents who are eager to learn CPR in order to save a life. Although the location and interaction opportunities are optimal, medics do use key message points, such as "It's most likely a loved one's life you'll save," to encourage passers-by to participate in the training. Thousands of individuals learned Hands-Only CPR at the state fairs last year. CPR Training Requests EMSA generally receives 30 requests per year to train small groups on how to perform CPR. These are businesses and organizations, as well as teams and non-profits. During the CPR Education Program, EMSA promoted CPR training through all owned mediums including its website and social channels. After promoting World CPR Day and the importance of learning Hands-Only CPR, EMSA inquiries for trainings increased by almost 25 percent. Most of the new requests came from government officials or civic-related organizations, which are targeted groups because their circle of influence is generally larger than other groups.
Training High-Profile Oklahoman in Hands-Only CPR
EMSA individuals researched prominent Oklahomans to find who fit with EMSA's mission and goals. We needed individuals that would create a buzz online and in traditional media. After considering various famous individuals we determined that elected officials were the most inclined to be concerned with the overall health and well-being of Oklahomans. We set our goals high, and invited the Governor to learn Hands-Only CPR. Additionally, we sent requests to various local elected officials to offer a CPR class during a City Council meeting. We were pleased that Oklahoma's Governor Mary Fallin, the Tulsa City Council and Oklahoma City Council accepted our invitations, and in three separate events, they learned the steps to save a life through CPR. The events created a stir in local newspapers and TV while also creating engagement online through our EMSA social channels and other digital news sources. Promotion EMSA promoted World CPR Day, CPR trainings, and the elected-officials training events throughout the year. Additionally, EMSA hosted several in-studio CPR demonstrations at Oklahoma City and Tulsa media stations. Another media component was promoting feature stories on patients that survive because of CPR. The final promotional component was a digital ad campaign that are PSAs about the three C's of CPR: check, call, and compress.
See measurable outcomes below; additionally review work samples to view social media samples, earned media samples and more.
Measurable Objective: train 2,000 attendees how to do Hands-Only CPR on World CPR Day. Result: Trained 2,585 people 1,201 in Tulsa and 1,384 in OKC Measureable Objective: train 10,000 attendees how to do Hands-only CPR at the two Oklahoma State Fairs. Result: Trained more than 10,000 people at the Tulsa State and Oklahoma State Fairs.
Measurable Objective: Utilize social media to increase awareness of World CPR Day Result: More than 20,000 unique social media impressions for various social media posts promoting and celebrating World CPR Day.
Measurable Objective: Utilize earned media, social media and World CPR Day to educate the community that EMSA is their CPR resource for training.
Result: Following World CPR Day EMSA was contacted by several community groups wanting EMSA medics to teach Hands-Only CPR at their monthly meetings. Additionally, EMSA gained a lot of media coverage and social media activity due to the high-visibility leadership participating in Hands-Only CPR.
The overall impact of the ongoing EMSA CPR program continues to increase the number of Oklahoma residents who can perform CPR. This ultimately affects improved health outcomes. Additionally, this campaign provides one-on-one time with medics which produces a familiarity with the ambulance authority that will provide long-term mutually beneficial outcomes.
Congratulations to EMSA for the CPR Education Program's selection as a 2016 AMBY Winner for Best Public Relations Campaign.
2016, American Medical Response (AMR), Best Community Impact, Oregon