2016 AMBY Best Community Impact Program: AMR, River Rescue Program
Congratulations to the 2016 AMBY Award Winners
Each year, the American Ambulance Association honors best practices, ingenuity, and innovation from EMS providers across the country with our AMBY Awards. 
American Medical Response River Rescue Program Awarded a 2016 AMBY for Best Community Impact Program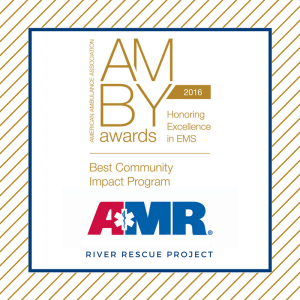 AMR | Oregon
The Oregon River Safety Program (aka AMR River Rescue Program) is provided by American Medical Response (AMR) as a community service for two communities it serves in Oregon. The program is the only one of its kind exclusively operated by a private EMS provider, supported by strong community partnerships, and was developed after a series of thirteen drowning deaths over five years in the 1990s at two popular river parks. Ten years earlier, AMR developed its Reach and Treat (RAT) Wilderness Medicine Program to provide medical care for people ill or injured on Mount Hood and the surrounding national forest. Since Swift Water Rescue was part of the existing Reach and Treat Teams training and competency, AMR worked with the Troutdale City Council and a group of dedicated civic leaders to launch the River Rescue Program in July, 1999. For the remainder of the summer, AMR used its RAT Team members as Swift Water Rescue Specialists to staff the new River Rescue program.
The program was developed to meet the certification standards of the United States Lifesaving Association (USLA) for open water lifeguarding, and is staffed by Oregon licensed Emergency Medical Technicians and Paramedics. To meet USLA requirements, AMR developed an 80-hour training program with core USLA curriculum as well as additional site-specific training. River Rescue Technicians are not the same as pool lifeguards, but instead are highly trained and certified professionals with expertise in lifeguarding, swift water rescue, and medical care. The AMR River Rescue program received USLA Advanced Lifeguard Agency Certification in April 2012. The United States Lifesaving Association is America's nonprofit professional association of lifeguards and open water rescuers. The USLA works to reduce the incidence of death and injury in the aquatic environment through public education, national lifeguard standards, training programs, promotion of high levels of lifeguard readiness, and other means.
This year marked the 18th season for the program. From 1999 through 2016, the AMR team performed 97 rescues, more than 1,400 assists of people in distress, and dedicated thousands of hours to prevention activity. Based on pre-program statistics, 66 drownings would have occurred over those years without the program. Each year, the team consists of approximately 20 River Rescue Technicians trained in Swift Water Rescue who provide life guard services seven days a week, ten hours a day at Glenn Otto Park in Troutdale, and at High Rocks Park in Gladstone, Oregon from Memorial Day weekend through Labor Day.
AMR's Oregon River Safety Program has been highly successful in relegating some of the State's highest drowning sites for recreational waterways to a footnote in history. The Program has increased swimmer safety through public awareness campaigns; prevention interventions, such as life jacket loaner programs; and community and media partnerships. It has also amassed a wealth of data to guide program enhancement which has documented a significant increase in the use of life jackets for all age groups. Lastly, the Program has prevented drowning through direct and often dramatic rescue interventions by AMR technicians.
From its inception, the goal of AMR's River Rescue Program has been to prevent loss of life due to drowning and to make the locations AMR guards safer. Primary responsibilities of River Rescue Technicians are to provide public education on water safety, raise awareness of the potential hazards of rivers and open bodies of water, promote life jacket use, deter risky behaviors (such as drug/alcohol use and unsafe ways of floating downriver on makeshift "rafts"), and rapidly respond to swimmers in distress. AMR River Rescue has released a new mission statement for 2016: Drowning prevention through education, vigilance and rescue.
AMR River Rescue utilizes a public health model "Spectrum of Prevention" approach to support the goal of drowning prevention by focusing efforts on: individuals, groups, providers, networks, organizations, and public policy makers. Injury prevention efforts are targeted by utilizing the significant amount of data captured by the program each year to help identify trends. AMR River Rescue has also developed strong partnerships with traditional media to further educational goals, allowing them to reach large television/radio audiences with important water safety messages for visitors to Oregon's rivers, as well as tips and advice to prevent drowning elsewhere, such as in pools and spas, and in and around the home. In addition to onsite, rivers-edge, education and prevention, River Rescue Team members participate in social media and community events to share information on water and pool safety for children and parents.
Planning and implementation of the program has developed over the course of the last eighteen years. In 1999, after 13 people drowned over a five-year period at Glenn Otto Park on the Sandy River in Troutdale, Oregon, AMR worked with local officials and civic leaders to pioneer an on-site river rescue program using EMS personnel trained as lifeguards specializing in swift water rescue. The program was modeled after ten years of success with the Reach and Treat Team developed by AMR in the late 1980s. AMR's River Rescue program is distinctly different than the Sheriff's office and fire departments' water rescue programs. While they cover long stretches of waterways and can only respond after an incident is reported, AMR's program focuses on the most dangerous river sections that have the highest drowning mortality sites. To protect these areas, public education and risk mitigation were made priorities and coupled with the River Rescue Technicians' training in Swift Water Rescue to spot trouble and act immediately.
The window to intervene in a developing drowning and save a life is often less than 30 seconds. After several years of program development, the River Rescue Program received certification from the United States Lifesaving Association (USLA), which is recognized internationally as the "gold standard" for accreditation.* To meet USLA standards, AMR developed a unique 80 hour training program with a core USLA curriculum with additional swift water and medical training. The program is unique in the U.S. and is the only certified agency that provides lifeguards solely in a swift water environment (versus beaches or lakes).
Because prevention is an important component of the program, a life jacket loaner program was developed, offering free daily use of hundreds of personal flotation devices (sizes from infant to adult) to visitors of the parks. In the summer of 2002, after three people drowned in less than a month at High Rocks Park along the Clackamas River, AMR expanded the program to cover the popular river site. Responsibility for the Clackamas River is vested with the Clackamas County Sheriff's Office, but the shore is governed by two cities, one on each side of the river. The lack of clear jurisdictional responsibility had caused a stalemate over how to improve safety at High Rocks Park for many years until AMR proposed expanding its River Rescue Program to that site and agreed to accept responsibility. (AMR knows the county well – as they have been the 9-1-1 ambulance provider in Clackamas County for decades). High Rocks Park presents much different challenges than Glenn Otto, with 20-25 foot rock cliffs and formations from which adventurers jump into the cold, fast moving water. Both the Sandy and Clackamas River share origin from Mount Hood glaciers and have swift current, cold water and underwater hazards.
The program also serves as a regional resource for water safety public education, water hazard mitigation, deployable rescue swimmers, as an in-water search resource for recovery of drowning fatalities in other areas of local rivers (upon request from law enforcement) and provide services and support to the Regional Clackamas County Water Safety Consortium.
Clackamas County Water Rescue Consortium members include:
AMR River Rescue Program
Canby Fire District
Clackamas County Sheriff's Office Marine Patrol
Clackamas County Fire District 1
Estacada Fire District
Gladstone Fire Department
Lake Oswego Fire Department
Tualatin Valley Fire & Rescue
Sandy Fire District Recruitment and Training
To prepare for staffing the river parks by Memorial Day weekend, AMR begins each season by recruiting candidates in February. They must pass a rigorous swim test (covering 500 meters in less than 10 minutes without the assistance of any propulsion devices) in order to continue through the selection and training process. New candidates join returning members in a challenging, eighty-hour course led by veteran River Rescue Technicians and other experts. Training topics include:
Swift water Hydrology and Hazards
Swift water Rescue Tactics
Lifeguarding Tactics
Observation and scanning
Rescue Scene Management
Community Education
Rescue kayaks
Rescue paddleboards
Media Relations
Staffing River Parks
Teams of 2-3 River Rescue Technicians are on duty at each site, and are in constant radio communications with each other, AMR's Communications Center, the 9-1-1 Center and local law enforcement officers. An alert is transmitted any time a River Rescue Specialist enters the water to conduct an assist or rescue, and if not canceled within five minutes, a full EMS response is dispatched. According to the USLA, the most challenging assignment for a lifeguard is safeguarding natural bodies of water, referred to as open water. Unlike pools and waterparks, crowd conditions, swift currents, cold water, underwater hazards, weather, and related conditions of open water can change quickly and pose unique obstacles to maintaining water safety. A primary responsibility is to provide constant outreach to warn visitors of the hazards, both new inherent, at each site. AMR technicians monitor water temperature, current speed, underwater hazards and public census at regular intervals every day, including in-water assessments. Even the most seasoned swimmer can be taken by surprise in swift moving water, but are generally less inclined to exercise risky behavior after an on-site expert has informed them of the hazards and possible consequences. Over the years, AMR's River Rescue Team has become the region's water safety subject-matter experts whom media outlets and others frequently turn to for water safety messages. Due to the focus on prevention and media interactions, the River Rescue Team receives annual training in prevention messaging and media interaction, including mock on-camera interviews and speaking points which undergo annual revisions based on previous years data.
Over the last 18 years the program has successfully reduced the drowning rate at Glenn Otto and High Rocks parks from approximately 1 in 15,000 to 1 in 256,500. The very first achievement however, was relieving community tension. At the first City Council meeting after the program began, then Councilor and now Mayor Doug Daoust, asked AMR leaders "how it feels to deliver a miracle?" Having received one of the highest compliments it could imagine, and with intense media attention, AMR set about re-instilling the philosophy of extensive selection and training, hypervigilance, and a primary focus on prevention. The official title, Oregon River Safety Program, was so named because water safety and prevention is the core focus of the program. Not only has community awareness and use of lifejackets increased, but families frequently state that they come to one of the parks for the add safety of lifeguards. The drowning rate at Glenn Otto and High Rocks parks has been reduced from approximately 1 in 15,000 to 1 in 256,500, and AMR hopes to continue to improve every year. In 2016 alone two people (a sixteen year old and a six year old) were pulled up from underwater, and an additional 147 adults and children were assisted before submerging. Over 18 years the program has directly intervened in 1,650 lives who were either beginning to or actively drowning, and have made direct prevention contacts to 23,330 people and families. The program:
Has saved lives, which has in return, propelled the continuance of the program.
Stopped the long history of fatal drownings in young people at the two parks.
Success created relief among the communities and community good will towards AMR's River Rescue Team.
Has enhanced strong community partnerships.
Raised overall awareness in communities and the region about hazards of rivers in Oregon.
Has helped to normalized life jacket use.
Developed an avenue for EMTs to transition from River Rescue to AMR Ambulance Operations.
Has changed city parks from former "party" hangouts (with alcohol, drug use and risky behavior) to more family-friendly environments, decreasing law enforcement issues.
Has seen the number of visitors to the parks increase.
Has seen life jacket use improve across all age groups and the implemented life jacket loaner program has seen yearly increasing demand.
Today, AMR funds most of the $160,000 annual program as a community service, assisted by the City of Troutdale with a $10,000 grant most years. An additional $10,000 per year is needed for new/refreshed equipment and is a relatively small portion of the Multnomah and Clackamas County budgets. Seed funding to purchase equipment in the early years was provided by the Troutdale Booster Club and Providence Milwaukie Hospital. The program has also received grants from Safe Kids Portland Metro, Safe Kids Worldwide and the Consumer Product Safety Commission to purchase PFDs for the life jacket loaner program, develop water safety banners, support for water safety educational programs and awareness materials to distribute at events throughout the season.
Congratulations to AMR for the River Rescue Program's selection as a 2016 AMBY Winner for Best Community Impact Program.
2016, American Medical Response (AMR), Best Community Impact, Oregon