Fundraiser for AMR Medic Hit By Drunk Driver
Sad News from Michigan—Critical Care Paramedic With Severe Head Injuries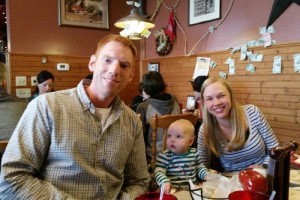 At approximately 4:30 am on August 7th, AMR unit 201 was moving post locations in Allegan County, MI when the unit was struck head on by an alleged drunk driver. Critical Care Paramedic crew members Kevin Jongekryg and Tim Hoffman were both injured in the collision, and were transported by their coworkers to a local hospital. Jongekryg, a 23 year veteran with AMR, suffered moderate orthopedic injuries and was ultimately discharged home a day later.
Hoffman, an 11 years provider with AMR, suffered multiple, significant head injuries requiring transfer into Grand Rapids, MI for emergency surgery. He is currently listed in critical condition and remains intubated. At this time Tim does have some spontaneous movement and has not been having seizures but is showing weakness on one side of his body. His doctors say he is improving, but slowly. He still has multiple surgeries upcoming and does not yet have a long-term prognosis for recovery.
Hoffman, his wife Kristen and his 13 month old daughter Anna have support from both family and community but they have a very long road ahead. A fundraiser site has been set up to collect money to aid in his recovery and to help provide for daily living expenses while he is unable to work. Please consider donating to help support Tim and his family. Anything helps. If you aren't able to donate, please consider sharing this information on social media and throughout your organization. Thank you for your assistance.
Donate for Tim's Care