Spotlight: John Peterson
John Peterson
Chief Administrative Officer
Sunstar/Paramedics Plus
Largo, FL
Can you please tell us a little about yourself?
I am originally from Apple Valley, Minnesota, a suburb of Minneapolis. I attended college in Chicago where I met my wife, Sarah. She is also a native Minnesotan. In 2003 we made the move to Florida for warmer weather. We enjoy Florida living, including kayaking and spending time at the beach. We are avid NFL football fans and are season ticket holders to the Tampa Bay Buccaneers. Of course, our Minnesota Vikings purple pride still remains. One thing that some people don't know about me is that besides being a paramedic, I am also a board certified Occupational Therapist.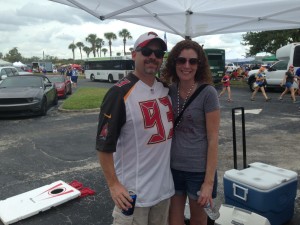 How did you come to work in the industry? How long have you been involved?
My first experience in EMS came when I injured my back playing football in high school. This became my first ambulance ride and was an experience I'll never forget. After graduating from college I had a friend who was working for a private ambulance service. He told me that the company he worked for was paying for people to go to EMT school and then providing them with full time employment. I jumped at this opportunity and never looked back. I fell in love with EMS and became a paramedic as soon as I could after EMT school. I worked as a paid on-call firefighter/EMT and as a paramedic/firefighter in Illinois before moving to Florida. I have gradually worked my way up through the ranks at Paramedics Plus and now have the opportunity to be the CAO for Sunstar.
What do you enjoy most about your job?
What I enjoy most about my job is the chance to make a positive change that improves the work life for our employees and provides the highest possible quality of service to our community.
What is your biggest professional challenge?
I think my biggest professional challenge currently is recruitment and retention of paramedics. The EMS industry appears to be seeing a reduction in interest from younger people in the workforce. This is at least in part due to wages and work schedules that struggle to compete with other healthcare industries.
What is your typical day like?
My typical day starts with 30 minutes on the elliptical machine. Once at the office, I try to get through as many emails as I can before the meetings of the day start. I spend a lot of time leading and attending meetings as we work to improve efficiency and provide the highest quality of service possible. The email and phone communications last all day. It's hard to ignore those smart phones.
How has participation in AAA membership and advocacy helped your organization?
One of the things I appreciate most about the AAA is the opportunity for EMS organizations from around the country to work together on projects that have positive industry-wide impact. It think is important that the AAA promotes a one team, one mission approach that puts aside agency competition for the betterment of the industry as a whole. The annual conference provides excellent educational and networking benefits and the daily digest emails help keep me informed of what is happening in the industry. I am looking forward to furthering my involvement with the AAA.