Tribute to Melissa Hudson, EMT, EMD, EMD-Q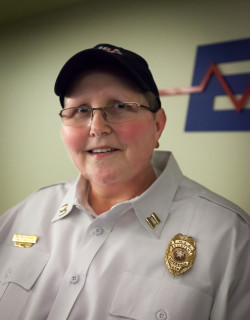 A long-time member of the EMS community died on Sunday, September 6. Melissa J. Hudson, EMT, EMD, EMD-Q, won widespread respect and well-deserved recognition during her 23 years of service at the Emergency Medical Services Authority in Tulsa, Oklahoma. She was 52 years old.
Melissa started her career at EMSA on June 1, 1992. As an EMT, she was a strong patient advocate and was promoted to a preceptor role. Later, Melissa uncovered her life's calling in the communications center. Melissa had an innate skill to calm callers and manage resources in a high-volume system. Her multitasking skills and ability to keep tracks of trucks in her head were legendary. It is no exaggeration to say that Melissa answered tens of thousands of emergency calls during her career. As a communications supervisor, Melissa set very high standards for herself and her crew, yet she also displayed great patience with and compassion toward her peers. She was a loyal friend, a dependable leader and a true force to be reckoned with.
In 2010, Melissa was diagnosed with ovarian cancer. She chose and was able to work full-time, almost to the end of her life, while undergoing aggressive chemotherapy treatment. Melissa was named the Oklahoma Emergency Medical Technician's Communications Specialist of the Year in 2011. In 2013, she was commended by the Tulsa City Council for helping rescue a premature infant born in the midst of a violent domestic dispute. Melissa talked the mother through the birth, persuaded an irate man at the scene not to harm the mother or child, and provided CPR instruction to a police officer who arrived at the scene just minutes after the baby's birth. In 2014, Melissa was nominated by her peers and selected to receive the EMS industry's most prestigious honor, the American Ambulance Association Star of Life award.
Melissa spent quality time with friends and loved ones during the last five years of her life. On November 4, 2014, Melissa and her longtime love, Pamela Kritikos, were married. The two traveled to Europe, took a cruise with dear friends, and loved spending time with their furry companions, Dexter and Tugger.
Melissa is survived by her wife, Pamela Kritikos, her sisters Cheryl Hudson and Linda Lane, brother Ed Evans, and several nieces, nephews, great-nieces and great-nephews. She was preceded in death by her parents, Verl and Esther Hudson, and her twin sister, Patricia Hudson.
In lieu of flowers, the family requests you consider a donation to a cause that was close to Melissa's heart: ovarian cancer research, the American Cancer Society or the Tulsa Society for the Prevention of Cruelty to Animals.